Is that a Rayquaza in your bath or do I need to call my therapist?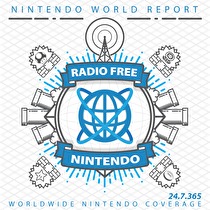 Subscribe via iTunes (Please rate and review, too!)
Guillaume took the week off to do Guillaume things, so this week RFN is joined by friend, and host of Radio Trivia, Mr. Michael Cole. Greg kicks off New Business with Pokkén Tournament. Against the AI he is an unstoppable Chandelure Calamity, but online he's finding himself more a Loseador Pikachu than a Luchador Pikachu. James foregoes an update on Tokyo Mirage Sessions #FE to instead provide concluding thoughts on Rhythm Heaven Megamix. Rhythm Heaven will always be great, but the addition of grinding to the formula spoils the mix. Mike has thoughts on a collection of non-Zelda E3 games. He starts with Phoenix Wright: Ace Attorney - Spirit of Justice, follows up with impressions of dismemberment-simulator Severed, and then finishes with thoughts on Shantae: Half-Genie Hero. Jon concludes New Business with a report on finding Pokémon in all the wrong places, with Pokémon Go.
After the break, we tackle a trio of Listener Mail. The segment starts with a conversation about what makes Zelda Zelda and if Breath of the Wild will be able to maintain that feeling. Our second email covers the struggles of Unreal Engine 3 games on Wii U and the future of Unreal on Nintendo platforms. Our final email asks the rather blunt question: "Why are MyNintendo rewards crap?" You can ask why we also produce crap by sending us an email. We're looking for RetroActive ideas and Sign-Off music; you can send suggestions to the inbox as well.
Thanks to Mike for joining us this week; if you haven't, check out the Radio Trivia Podcast and be sure to see his and Jared Rosenberg's Ace Attorney - Spirit of Justice interview.
This episode was edited by James Jones. The "Men of Leisure" theme song was produced exclusively for Radio Free Nintendo by Perry Burkum. Hear more at Bluffs Custom Music's SoundCloud. The new Radio Free Nintendo logo was produced by Connor Strickland. See more of his work at his website
This episode's ending music is Magicant/Eight Melodies (Mother 3) from Super Smash Bros. for 3DS. This arrangement was composed by Yoko Shimomura. All rights reserved by Nintendo.