Disney may have Infinity, but Animal Crossing Happy Home Designer provides the truest look into the unlimited expanse of oblivion.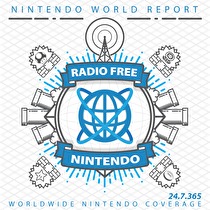 Subscribe via iTunes (Please rate and review, too!)
Greg took the week off to watch his beloved New England Patriots kick-off the NFL season with a win, so Team RFN is joined this week by print journalist and independent game developer - and friend of the show - Syrenne McNulty.
Syrenne starts off New Business with a duo of Toys-to-Life games. First she describes Animal Crossing: Happy Home Designer, a game that enables you to engage in the Sisyphean task of designing the same plot of land, over and over. She follows with Disney Infinity 3.0, an "everything but the kitchen sink" style of Toys-to-Life game that serves as a palate cleanser and a positive example to some of its lesser peers. Meanwhile, Gui has found himself looking for co-op experiences. He explores Astral Breakers, a Wii U eShop multiplayer puzzle game, and then returns to Wii U classics Super Mario 3D World and New Super Mario Bros. U. The question is, are they REALLY classics? Jon revs his engine with Excitebike Vs., now with actual saving. Is Nintendo's first level editor a stealth tease for how RFN is going to cover their latest? No. Lastly, James attempts to give some advice to people who want to play Metal Gear Solid V, but wonder if they should try to catch up first. Like all conversations in Metal Gear Solid, it goes on far too long.
After an unusually deep Now Playing, it's an all-news Listener Mail. Nintendo and their partners made last week especially newsworthy, and our listeners answered (especially one wise and dashing listener). Questions touch on the announcement of Pokémon GO, Ace Attorney 6, and Pikmin 4. They also probe the lack of Nintendo Directs, and such inquiries are answered using nebulous "sources." Questions even cover Nintendo's recent trend of improving games in significant ways, after the review cycle is completed.
You can send your questions to the RFN mailbag. You can also send us your Super Mario Maker codes and end music suggestions. Lastly, it's time for you to vote for our Super Mario Maker-inspired RetroActive. We received so many suggestions that we changed some of our plans; you can read about that and vote here.
Thanks to Syrenne for joining us this week.
This episode was edited by Guillaume Veillette. The "Men of Leisure" theme song was produced exclusively for Radio Free Nintendo by Perry Burkum. Hear more at Bluffs Custom Music.
This episode's ending music is the end theme from Super Mario Land, composed by Hirokazu "Hip" Tanaka. All rights reserved by Nintendo Co., Ltd. It was requested by TOPHATANT from the Nintendo World Report forums.