If Nintendo puts out some games we won't have to keep finding names for this.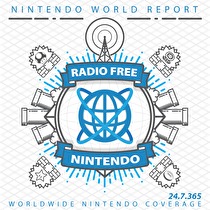 Subscribe via iTunes (Please rate and review, too!)
The calendar rolls into September, and RFN keeps rolling with New Business. First up Gui has a duo of party-game hybrids: Wii U party platformer Runbow and Wii relationship-decimating party RPG Dokapon Kingdom. Next up, Jon covers himself in paper cuts on the jagged 3D models of otherwise-classic Treasure shooter Sin and Punishment, now available on the Virtual Console. Greg discovers what he's fighting for with Mega Man X4. Lastly, James gives an update on LBX and before diving head first into long-running RFN gag Tube Slider. You can see James suffer in the tubes in the New Business Preview.
After the break, it's a trio of Listener Mail questions. Spurred by the sudden announcement of Amazon selling Wii U and 3DS digital games, the show launches into a discussion of potential new features Nintendo could add to their network in the near future, and what should be expected on NX in particular. An innocuous question about good introductory RPGs predictably spirals into infighting. Lastly, we have an inside baseball discussion over the obligations and best practices of video game journalism (thanks to Neal and Donald for their help with this question).
Just a reminder, we're getting ready for our next Retroactive: Mario games not featured in Mario Maker. Keep in mind, this is literally ANY game in which Mario makes ANY appearance. You can send your suggestions for the poll, your mailbag questions, or end music suggestions to the RFN Mailbag.
This episode was edited by Guillaume Veillette. The "Men of Leisure" theme song was produced exclusively for Radio Free Nintendo by Perry Burkum. Hear more at Bluffs Custom Music.
This episode's ending music is the end theme from Lords of Thunder. All rights reserved by HUDSON Soft/Konami. It was requested by Jon.