This shorter episode focuses on the upcoming E3 Expo and our predictions of what may (won't) happen.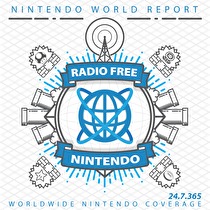 Subscribe via iTunes (Please rate and review, too!)
Most of the RFN crew is traveling this weekend, leaving James to edit, so we recorded early and made it a one-segment quickie all about E3 2014. The annual pageant for video games is always an exciting time for Nintendo fans, as we often know very little of the year's remaining game releases until the show begins. We've been futilely predicting E3 announcements for years on Radio Free Nintendo, so why stop now? It turns into a robust discussion about the upcoming event and several recent topics and rumors that may factor into what Nintendo brings to E3 -- including Hyrule Warriors, Retro Studios, Miyamoto's secret project, and interactive figurines.
Next week is the perfect time to read some E3-related emails, so please send in your own to help make it even better! You can also check out Jonny's latest guest appearance on the excellent Radio Trivia: Podcast Edition by our friend and frequent guest, Michael Cole. This is also a good time of year to be listening to Jonny and other ex-RFN dudes over on the Box Office Poison podcast.
This podcast was edited by James Jones.
Music for this episode of Radio Free Nintendo is used with permission from Jason Ricci & New Blood. You can purchase their newest album, Done with the Devil, directly from the record label, Amazon (CD) (MP3), or iTunes, or call your local record store and ask for it!
Additional music for this episode of Radio Free Nintendo is copyrighted to Nintendo and is included under fair use protection.