A new platform on Virtual Console gives us the perfect excuse for a Game Boy Advance retrospective feature. Also: a Mario Kart Wii fanboy reacts to the latest MK8 info!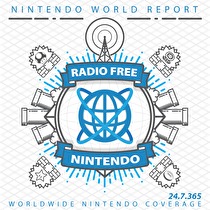 Subscribe via iTunes (Please rate and review, too!)
Jonny's back in the hosting chair and ready for action this week! He launches into Yumi's Odd Odyssey and also returns to Batman Arkham Origins: Blackgate now that an expanded version is out for Wii U and other consoles. Guillaume continues to slog through Ace Attorney Investigations and also tries the ever-charming, ever-controversial Earthbound for the very first time! Jon is still waiting for his 3DS to come back, so he uses New Business to talk about the latest Mario Kart 8 details. Finally, James gets into Saints Row 4 and explains why it doesn't connect for him as much as the previous game.
After the break, we use the addition of Game Boy Advance titles to the Virtual Console (only on Wii U, at least for now) as a good excuse to look back at this odd era in Nintendo's handheld lineage. The panel's opinion of GBA as a platform is somewhat mixed, but we all agree that it has some wonderful games and a very colorful, if abbreviated, history. If you got into Nintendo during the Wii/DS boom or just somehow missed GBA in the early 2000s, you might be surprised to hear about the creativity and experimentation that did occur on a system that was and still is often associated with SNES ports. Try the links on our sidebar to the right for more info on some of our favorite titles mentioned in this episode!
Send in your own thoughts on GBA or any other topic for next week's Listener Mail segment! We're also pumped for some online thrills in Goldeneye 007 for Wii -- meet other players and arrange matches in the official RetroActive forum thread! The wrap-up discussion on our podcast will probably be coming up in the next couple of weeks.
This podcast was edited by Guillaume Veillette.
Music for this episode of Radio Free Nintendo is used with permission from Jason Ricci & New Blood. You can purchase their newest album, Done with the Devil, directly from the record label, Amazon (CD) (MP3), or iTunes, or call your local record store and ask for it!
Additional music for this episode of Radio Free Nintendo is copyrighted to Nintendo and is included under fair use protection.