It's finally time for RetroActive. Plus: Resident Evil and other games!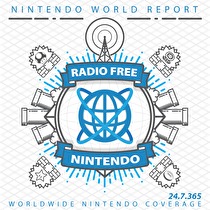 Subscribe via iTunes (Please rate and review, too!)
It's time for another cartoo-oo-oon! Or podcast. Let's call it a podcast. And this time around, we spend a good little ol' chunk of time on a certain game that was chosen by the listeners. But first, we got some new New Business that's new. Greg leads off with Resident Evil: Revelations, not to mention a little accessory called the Circle Pad Pro. He nearly beat the game before recording time, so expect an extensive discussion (but still spoiler-free). James has last year's hybrid open-world-adventure game, L.A. Noire, but he and Jonny disagree on it just a little. Jon's got his first impressions of Bastion, the awesome download title that draws comparisons to both Zelda and Torchlight. Jonny cinches the segment with a little Zelda: Four Swords multiplayer action and a look at Shadow of the Colossus HD.
Then it's finally time to jump into RetroActive #21. You voted, we played, and now you'll hear our sprawling discussion of Fire Emblem: The Sacred Stones. It was our first real experience with the franchise, except for James, who predictably brings an expert's perspective to enrich the feature. Armed with an arm-length list of forum quotes from the official thread, we look at this accessible Fire Emblem from as many angles as time allows. RetroActive is one of our most popular features, and this might be the best one yet! Let us know what you thought about this episode or anything else right here.
This podcast was edited by Greg Leahy.
Music for this episode of Radio Free Nintendo is used with permission from Jason Ricci & New Blood. You can purchase their newest album, Done with the Devil, directly from the record label, Amazon (CD) (MP3), oriTunes, or call your local record store and ask for it!
Additional music for this episode of Radio Free Nintendo is copyrighted to Nintendo, and is included under fair use protection.