We talk up games new and old, plus answer your questions about SOPA and Mario level selection.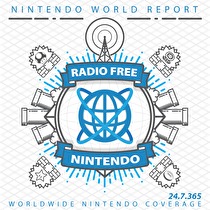 Subscribe via iTunes (Please rate and review, too!)
While everyone is hammering away at Fire Emblem: The Sacred Stones for the upcoming RetroActive show, we have a classic RFN episode for you this week. It begins with Jonny finally finishing Trauma Team after a long hiatus, and he declares it one of his favorite Wii games. He also has impressions of the classic WRPG, Star Wars: Knights of the Old Republic (not to be confused with any MMO). Jon is also in the business of finishing games started long ago, as he picks up where he left off in God of War 3. Greg celebrates the end of the PAL Virtual Console drought before moving on to Bionic Commando for Game Boy (via eShop), sparking a hopeful plea for the completely original GBC game, Bionic Command: Elite Forces. James steals home plate with a look at the Resident Evil: Revelations demo for 3DS, plus a mixed review of F-Zero: Maximum Velocity from the 3DS Ambassador bundle.
After Now Playing, we jump into the mailbag to answer your burning questions. Topics include how to parlay retail demos into actual sales, Capcom's plans for the 25th anniversary of Mega Man, and Nintendo's vague stance on the SOPA/PIPA bills. For the grand finale, we launch into a passionate debate over how to select and discover levels in 3D Mario games. Thanks to everyone who sent emails -- you can join their ranks right here.
Don't forget that RetroActive is underway, so be sure to play your copy of Fire Emblem: The Sacred Stones and join the discussion in yonder forum thread. We'll read some of the best comments on the podcast!
Lastly, be sure to check out Jonny's guest appearance on the VG Tribune Roundtable for his industry-wide 2012 predictions and bonus impressions of Fire Emblem: The Sacred Stones and Kingdoms of Amalur: Reckoning.
This podcast was edited by Greg Leahy.
Music for this episode of Radio Free Nintendo is used with permission from Jason Ricci & New Blood. You can purchase their newest album, Done with the Devil, directly from the record label, Amazon (CD) (MP3), oriTunes, or call your local record store and ask for it!
Additional music for this episode of Radio Free Nintendo is copyrighted to Nintendo, and is included under fair use protection.