I've taken Jon hostage. Talk about Nintendo if you ever want to see him again. -- SLICK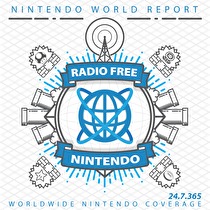 Subscribe via iTunes (Please rate and review, too!)
Jon had to bail this week, which is a real shame given his familiarity with the RetroActive game, River City Ransom. Before the rest of us get to that classic, we've got reports on several other things. Greg leads off with a major update on his progress through Xenoblade Chronicles, plus a look at the bumper crop of Wii Virtual Console releases in Japan, the only place where the service is still going strong. James has been playing NBA Jam: On Fire, the HD download-only version of last year's arcade basketball revival for Wii. He also gives a glowing review of the Professor Layton movie, which looks to be heading for American shores in a matter of days. Finally, Jonny finds much disappointment in his initial harvest of iPhone games, but he does has a lot of nice things to say about Batman: Arkham City, which is coming to Wii U next year.
Then it's time for RetroActive, the podcast feature in which we invite you to help choose a game for us all (listeners included) to play and discuss. The winner this time was River City Ransom, and we have plenty to say about this odd, beloved NES beat-em-up with significant RPG elements. If you've ever read or watched Scott Pilgrim vs. the World, you'll recognize that its creator was a huge fan of this game. Its influence reaches into modern video games as well, but we try to focus on the game itself, which is quite fun and intentionally hilarious.
It's now less than two weeks until the 2nd Annual NWR Live Podcast Telethon for Child's Play! Holy crap! We have a lot of work to do in preparation, but while we scuttle around behind the scenes, you can get a head start on the event by checking out the telethon event page and marking your calendar now. Remember, more money raised equals a longer and more varied live show, so please be generous in giving to this fantastic charity! We also want to make sure you can attend the live stream on Saturday, Nov. 19 starting at Noon EST, but a recording will be attempted for everyone who has to miss the fun.
This podcast was edited by Greg Leahy.
Music for this episode of Radio Free Nintendo is used with permission from Jason Ricci & New Blood. You can purchase their newest album, Done with the Devil, directly from the record label, Amazon (CD) (MP3), or iTunes, or call your local record store and ask for it!
Additional music for this episode of Radio Free Nintendo is copyrighted to Nintendo, and is included under fair use protection.