The RFN crew blasts through games, answers your letters, and even looks at a bit of recent news.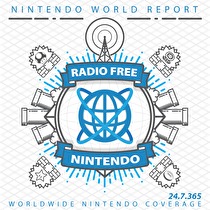 Subscribe via iTunes (Please rate and review, too!)
The regular crew is back on board this week to bring you another exciting Nintendo podcast! Jon describes his considerable progress in Chrono Trigger, and we discuss the impending Virtual Console release of the seminal JRPG. James has been overloaded with work, but he does sneak in quick impressions of Ghost Recon: Shadow Wars for 3DS. Jonny sweeps through no less than five games for the past week, but his focus is on Valkyria Chronicles (from the guys who brought you Skies of Arcadia) and a unique, incredibly impressive indie game called Sequence. Greg talks about the new Mortal Kombat and draws surprising comparisons to Rare's long-abandoned Killer Instinct series. He also reports on the latest Nintendo Seminar 2010 game from Japan, the honestly named Pull Pull Pullpy.
After a quick break, it's time for Listener Mail. The flood of excellent questions continues, so we get to spend time on topics like Nintendo's response to the PSN outage, the eShop delay to E3, long-term availability of the Wii Shop Channel, the apparently fleeting concept of replay value, a "black label" sub-brand for Nintendo, and the questionable necessity of a second Wii Nunchuk. We'd love to hear from you too, so please contact the show!
Finally, the results are in, and Perfect Dark is your selection for the next RetroActive! The official forum thread is already going, so be sure to leave a few memories or fresh impressions (of either the N64 original or XBLA remake). We'll choose some of the best comments to be read on the podcast in just a couple of weeks.
This podcast was edited by Greg Leahy.
Music for this episode of Radio Free Nintendo is used with permission from Jason Ricci & New Blood. You can purchase their newest album, Done with the Devil, directly from the record label, Amazon (CD) (MP3), or iTunes, or call your local record store and ask for it!
Additional music for this episode of Radio Free Nintendo is copyrighted to Nintendo, and is included under fair use protection.