Our site's founder stopped by to chat about 3DS and the new console, but apparently Prince > podcasting.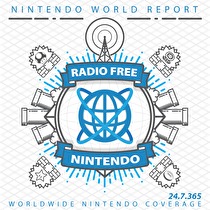 Subscribe via iTunes (Please rate and review, too!)
A few weeks ago, Greg gave us a heads-up that he would be missing this episode of RFN to stay up and watch the NFL Draft on TV. Considering that he is by far the most consistent member of our team (as boasted last week), we could hardly begrudge him the time off. I took it as an opportunity to bring back one of our favorite guests, NWR founder and friend of the show, Billy Berghammer. He graciously agreed, and we began to make plans for a magical episode of RFN with our old pal. Then, SOMEONE (named Jeff Cannata) coughed up a ticket to see Prince, an offer that Billy was understandably unable to resist. So, you will hear BB at the very beginning, but he had to skip out early in the show.
With Billy gone, the remaining trio keeps on truckin' through New Business. Jonny decided to pop in Mega Man Legends 2 in order to prepare for the impending 3DS "prototype" and sequel. Jon has a new Chrono Train update in which you'll find out which boss brought a screeching halt to his progress (for now). James is humiliated by Ikaruga and also delivers some sweet news on the Bit.Trip front.
In the lengthy second segment, we run through a litany of listener letters covering every topic you can imagine. Nothing is sacred, especially Fatal Frame, Project Cafe, 3DS cameras, Metal Slug, Nintendo characters looking weird in HD, and the injustice of multi-task gaming. We'd love to hear from you too, so send in those emails!
Finally, we get to announce the next RetroActive poll. This edition's theme is remakes, or rather games that have been remade. Head over to this here forum thread and make your vote count!
This podcast was edited by Greg Leahy.
Music for this episode of Radio Free Nintendo is used with permission from Jason Ricci & New Blood. You can purchase their newest album, Done with the Devil, directly from the record label, Amazon (CD) (MP3), or iTunes, or call your local record store and ask for it!
Additional music for this episode of Radio Free Nintendo is copyrighted to Nintendo, and is included under fair use protection.