An RFN co-founder returns to the show, and we talk about all the crazy games at PAX East.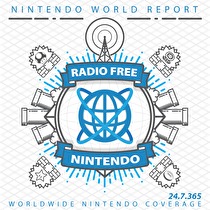 Subscribe via iTunes (Please rate and review, too!)
It's been a very long time since RFN co-founder Evan Burchfield appeared on the show, and now he's back at Jonny's side to talk about games. But first, we have a brief post-mortem on last week's PAX East panel, plus an overview of everything we played at the convention, including 3DS demos, Ikaruga, Rock Band 3 (with the Squier guitar), Rare's NES offerings, ice hockey on Sega CD, and an obscure NES game called Xexyz.
In New Business proper, we catch up with Greg's exploits in Metroid Prime 2: Echoes (Wii version) and its spiritual predecessor, Zelda 3. Yes, I said Zelda 3, deal with it! Jon shows us his Pokemans, while James takes a big dump on Ubisoft's RUSE. Evan reports on all kinds of hallucinatory games such as Muscle March, Noby Noby Boy, and 3D Dot Game Heroes. Jonny brings it home with Dead Space 2, which owes more inspiration to Nintendo games than you might expect.
Your Listener Mail questions start by asking how to acquire that belle of the DS ball, Radiant Historia. We also discuss impulse purchases, the clickiness of 3DS buttons, and the best games to play with kids.
This podcast was edited by Greg Leahy.
Music for this episode of Radio Free Nintendo is used with permission from Jason Ricci & New Blood. You can purchase their newest album, Done with the Devil, directly from the record label, Amazon (CD) (MP3), or iTunes, or call your local record store and ask for it!
Additional music for this episode of Radio Free Nintendo is copyrighted to Nintendo, and is included under fair use protection.