Organization and sorting turns artistic and dazzling in this puzzle game.
How I feel about Wilmot's Warehouse likely bears some introspection. I've personally dealt with a wealth of stress and anxiety in the past week, but the organized and chill vibe of new Switch puzzler Wilmot's Warehouse has been a salve. More so than any other game this side of Picross, playing this game has made me breathe easy and relax. Made by some of the folks behind the endearingly weird Hohokum, this relatively simple game just makes you work in a warehouse. That's basically the entire game, though it's much better than it sounds thanks to the bravura yet simplistic artistic presentation.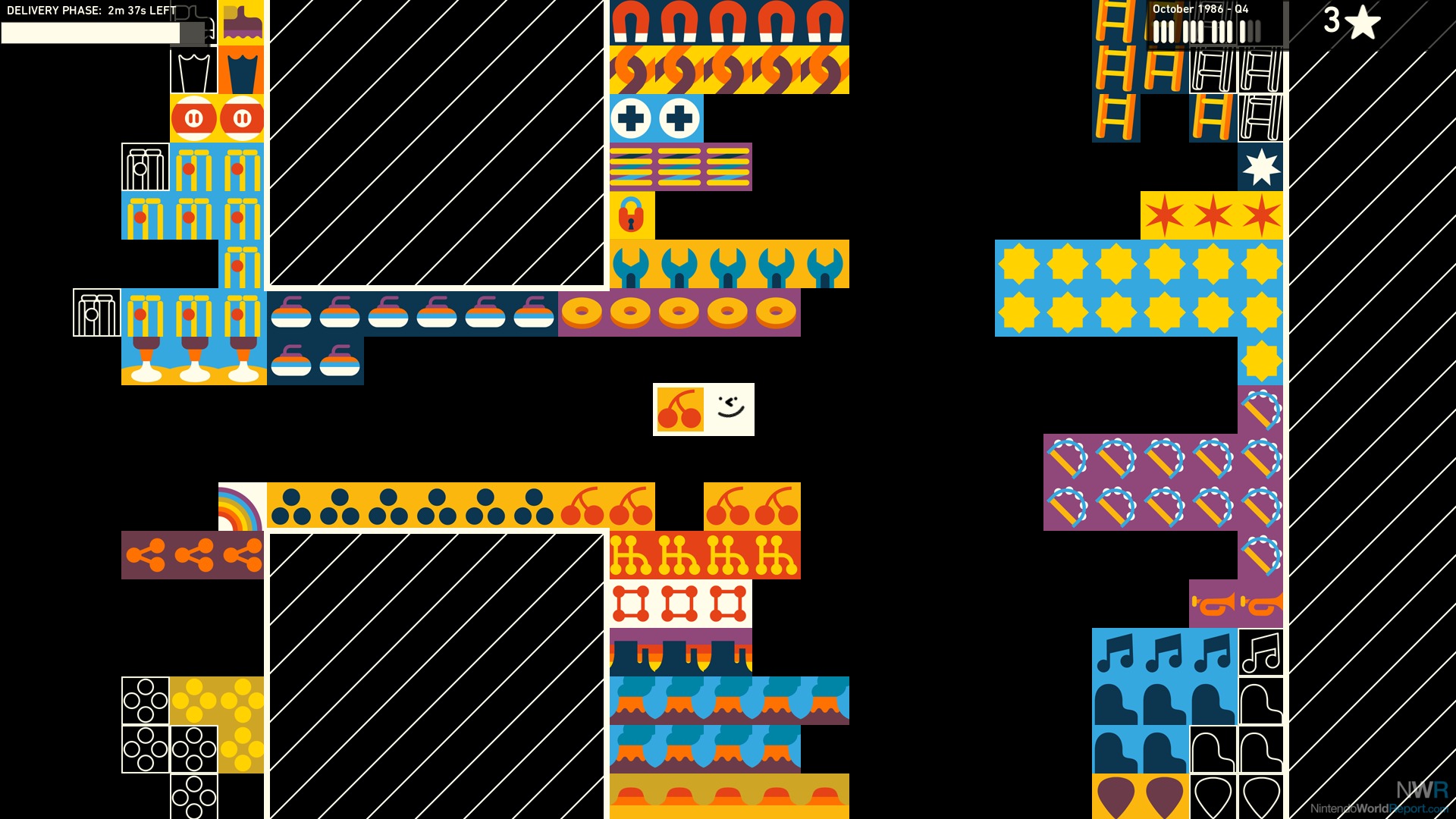 At first, you have a limited amount of items to stock in your warehouse. A delivery shows up and you move your BoxBoy-looking pal Wilmot around the space sorting and organizing simple cubes with art signifying what item it is. It's up to you to determine how best to sort the items. The tutorial tasks you with separating hats and winter items, but then gives you a winter hat to sort, thus clawing at the central challenge of this part of the game: what method will you use to keep your warehouse straight?
You're time-restricted during the stocking phase, which does add a bit of pressure as you try to spread these boxes out. When it's over, you move to the delivery phase, punctuated by customers who demand specific amounts of the boxes you stored. Doing these deliveries quickly earns you more stars, which can be used to upgrade your boxy worker by expediting your work with movement boosts and abilities. Later upgrades can even add space to your warehouse.
Complete the deliveries and you move to the next month to start the stocking and delivery cycle anew. Every so often you have free time to rearrange your warehouse, which is helpful because while you start with around a dozen items, you can eventually sort items in the hundreds. It's daunting but also possible - and the punishment is disorganization more than anything else. The rhythm of Wilmot's Warehouse is peaceful even when you have to contend with time pressures and confusion. I appreciated the serenity of the moment-to-moment gameplay here. Also thankfully every few months of game time gives you a limitless period to fine-tune your warehouse wares.
I'm thankful for those untimed moments to center your warehouse, because the stress of keeping things logical can get tough as you get deeper into the game. An Expert Mode features modifiers to ramp up the challenge but a lot of those tweaks take away the chill nature that makes the game succeed. It's entirely optional and the fact that layer of customization is there is nice, but it seems to run counter to the strengths.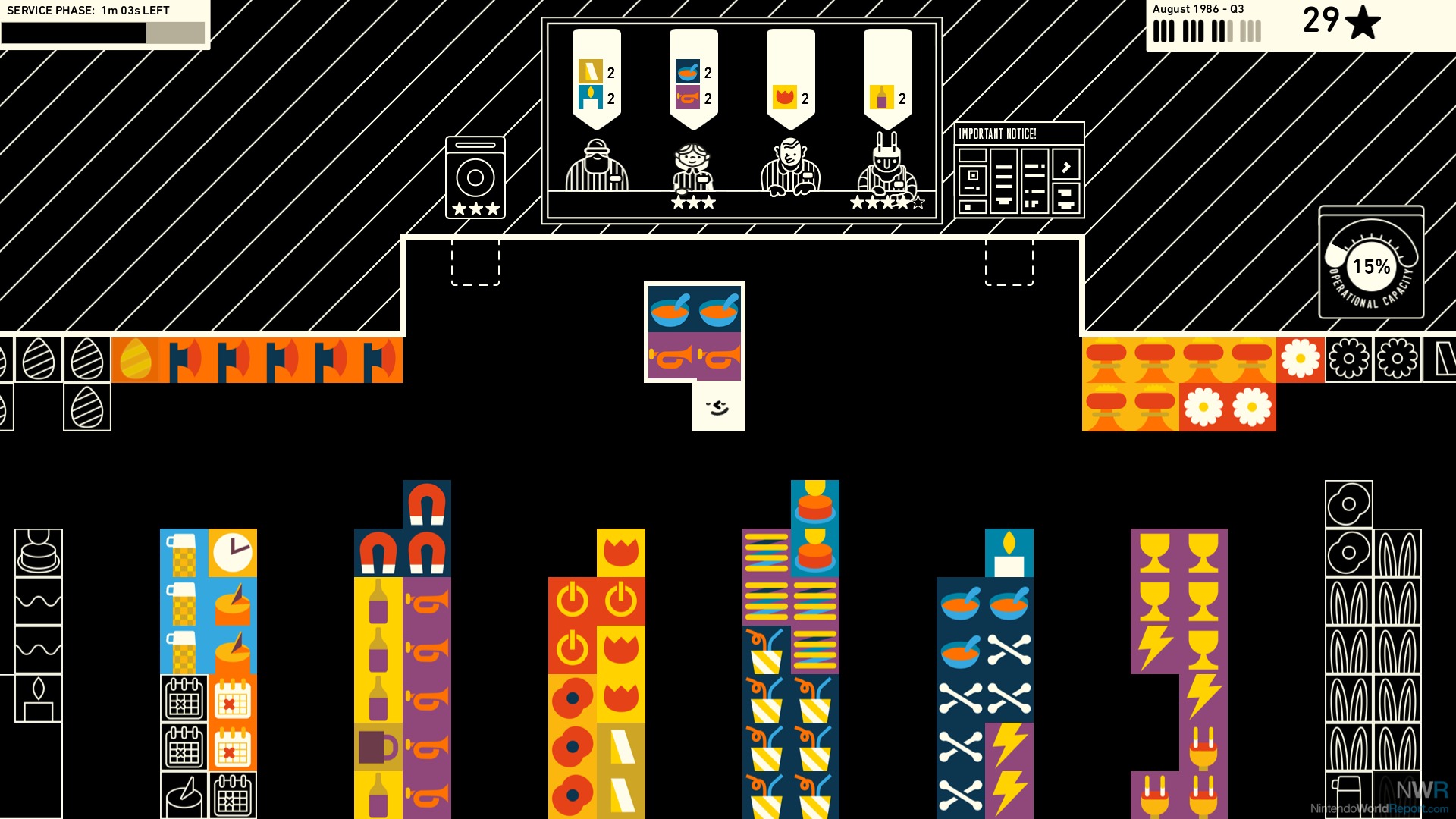 The split-screen co-op mode, on the other hand, adds some legs to the experience, letting you sift through the variety of items with a friend. The co-op does remove some of the serenity, but opens up interesting meta elements as you need to work in tandem with the other player to make sure the warehouse sorting makes sense to both of you. It almost feels like a more peaceful Overcooked.
But I kept coming back to Wilmot's Warehouse for the main solo ride. It's a stunning game that gamifies organization in a way that for some, like me, skews more pleasant than manic. The order required to succeed with Wilmot can quickly turn to chaos, holding this back slightly from being something I can wholeheartedly recommend to everyone. If the concept of sorting items and making your own patterns is appealing to you, then Wilmot's Warehouse is a unique puzzle game right up your Switch alley.