Baba Is You. Review Is Here. Neal Is Reviewer. Flag Is Win.
The fact that Baba Is You's title is a sentence is deliberate. This artsy puzzle game is all about manipulating words to change the meaning of objects in order to reach a goal. It's baffling in spots, but more often than not, this is a rewarding, brain-bending logic puzzle masterstroke. The concepts regularly introduced through each new set of levels are endearingly clever, and truthfully my only complaint is that you can still find yourself stumped without much recourse.
Baba Is You's puzzles start off rather simply. Controlling Baba (or whatever object "Is You" in a given level), you have to push words around to create sentences to reach a goal. So in an early stage you might be walled in and separated from the flag (which is defined as "Flag Is Win"). The solution might be to move around the words "Wall," "Is," and "Open" to form a sentence that allows you to walk through the wall and reach the goal. Early levels help to make the rules clear, though with how much the game throws at you over time, it's easy to get lost in what all the words represent when jumbled together. The complexity ramps up over the first dozen or so stages, as initially the number of sentences is low but later on reaches upwards of 10 sentences defining what objects do.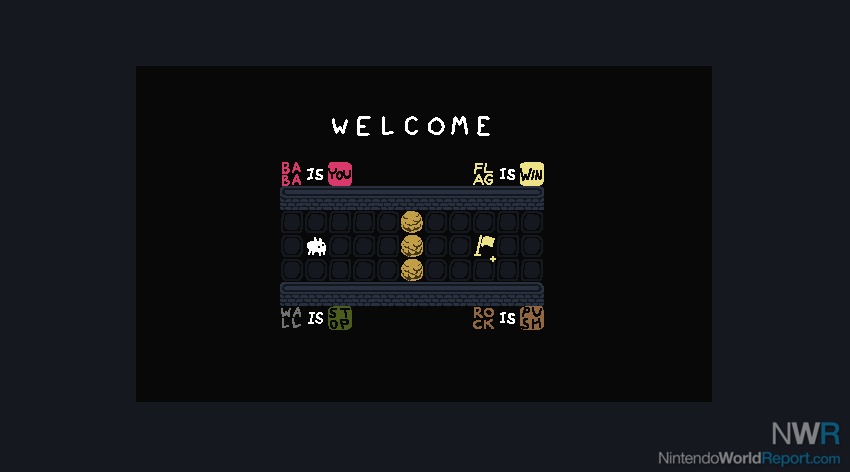 A lot of my time was spent experimenting to see what I could do and how best to solve a level. This is easy to do because of the ability to press a button to go back one move, which encourages you to mess around with levels. Some of my favorite goofs to do are to do things like make the water become text, so the sea of blue just becomes a cacophony of words pushed together. As you go across multiple areas containing several levels each, new ideas are continually introduced, and each one adds a new wrinkle that the game then proceeds to toy with in impressive ways.
The degree of ingenuity and creativity in Baba Is You is breathtaking at times. Figuring out the solution to a level would generally just splash a smile across my face in an "aha!" style moment that I don't often feel while playing games. The challenge can get occasionally maddening though. A hint system of some sort would go a long way here, especially considering I find myself at worst decent at these types of games and I was pushed to my limits with most of these puzzles.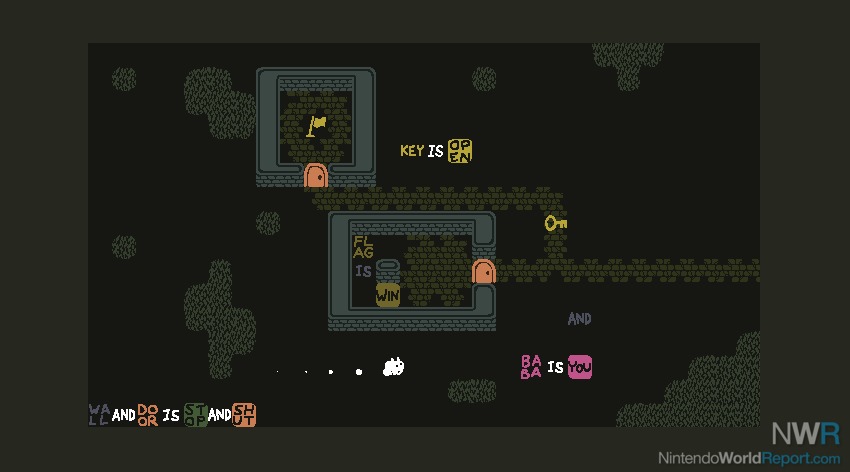 Some smart design does offer you multiple avenues to game completion, though. You don't need to solve every puzzle in a given area to complete it, and this lets you bounce around to different ones if you're stumped. The couple times when I was befuddled by what I had to play, moving between areas helped me crack the code on at least one. Still, Baba Is You is not for the faint of heart. It requires lots of brainpower to mess with rules and bend the meaning of words to your will.
My only misgivings come from the stark difficulty, but even that is a core part of the charm of Baba Is You. Excellent sound design and visuals make getting lost in puzzles engrossing and fun, even if it's occasionally hair-pulling and brain-twisting. But all of those bothersome traits wash away the moment you solve a tough task. Logic puzzles don't come more clever or rewarding than Baba Is You, and with that in mind, this is one of the best of its kind in recent memory. It just might stump you a lot.