Dave Lonuts is back at it again in this arcade Switch game.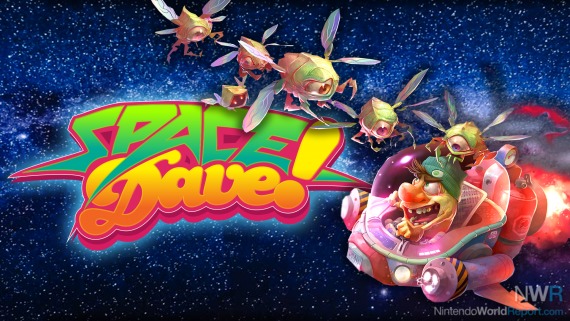 Developer Choice Provisions has been very active in making games for Nintendo, most notably their Bit.Trip franchise previously seen on Wii, 3DS, and Wii U. Aside from that, in 2014 and under their "Mini-Divisions" label, they brought out Woah Dave!, a Mario Bros.-style frantic arcade game all about throwing eggs and collecting money. Now we have Space Dave!, a spiritual successor that plays differently but with the same amount of wacky charm - and it's safe to say that if you liked Woah Dave!, you will love Space Dave!.
Playing like a mixture of Space Invaders and the quirky Bird & Beans, the goal of Space Dave! is to collect as much money you can by shooting up and obliterating the alien menace. Like Space Invaders, every varied set of enemies come in patterned fleets, all with different attack patterns that require dodging and jumping all over the terrain. When an alien makes a dive towards Dave is when trouble can really ensue, for if they hit the ground, that part of the terrain turns to lava, limiting where Dave can now stand. Luckily, Dave is equipped with a "jetblaster" and has the ability to fly across the screen, creating quite the frantic gameplay indeed. When killing certain aliens, they drop skulls that can be thrown to the different lava areas to make them usable ground again.
If you've played Woah! Dave before, the look and feel will definitely be familiar. The retro-styled art and menu systems really instill the arcade feel, especially when accompanied by a fantastic, dynamic chiptune soundtrack that get more intense the further you get. All the enemies and bosses are wacky and full of character as they try to advance towards you. One of the hooks that makes Space Dave so satisfying are the power-ups that are brought to Dave (from one of his friends on a stolen UFO). If used correctly, these upgrades can be an absolute game changer and are the key to beating foes and collecting lots of coins. The SPACE Block that comes along every once in a while is the most powerful of them all, as it can capture nearby enemies and turn them against each other adding tons of firepower to Dave's arsenal.

Three different difficulties are available to choose from - Easy-Peasy, Normal, and Bonkers. All of them are playable in both single-player and two-player co-op, so having a friend to join in the hectic fun is easy-peasy. You can upload your high scores from every game mode to an online leaderboard system, but unfortunately a friend-only leaderboard is not included in the game. This means that it isn't possible to see your friends' high scores, which is a shame, but Choice Provisions has told me that they are planning to include this feature in a future update.
Also included are little Achievements to shoot for, adding a little more replay value to the package. These include getting certain amounts of coinage and also executing crazy demands that get quite challenging. Weirdly enough, when playing with Joy-Con, the rumble feature seems to be cranked to the max, resulting in a loud and quite shocking effect. Playing with the Pro Controller seemed fix the problem, but if you don't have one handy, rumble can be turned off.
If you are a fan of classic arcade games, I'd highly recommended Space Dave!, as it's a prime example of a great pick-up-and-play game. The addictive gameplay had me always wanting to come back for one more round over and over again, proving that Choice Provisions successfully executed on what they were trying to deliver - a solid arcade experience.