It's the most electrifying compilation in Switch entertainment.
Inti Creates is one of the most prolific publishers on the Switch in its first six months – today's launch of the Azure Striker Gunvolt Striker Pack means they have three titles out in six months. Inti's skill at creating retro-styled platformers has served Switch owners well thus far, and the Gunvolt games are still solid even if there's still some kinks that need to be ironed out.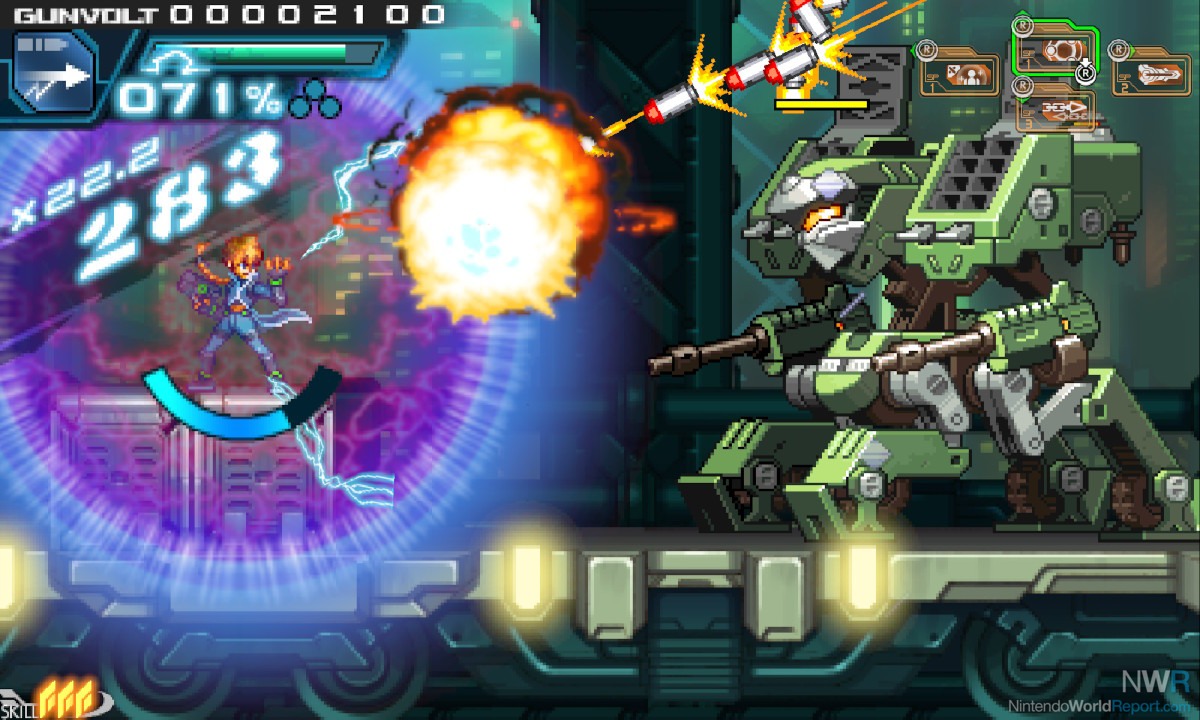 The Striker Pack contains higher-resolution versions of the two Azure Striker Gunvolt games, which released in 2014 and 2016 respectively for the 3DS. Additional content, such as DLC for Gunvolt 2 and new difficulties that were added to the PC version of the original, is also included. The easy mode makes Gunvolt 1 laughably easy; a boss that I spent multiple hours on in the 3DS original went down in roughly a minute in a run through the Switch version. It's a good way to catch back up with the story or if you skipped the second game last year, but it won't last long. The hard mode in 1 turns the damage from spikes into instant kills and reduces Gunvolt's HP in general if you're feeling particularly masochistic.
The core Azure Striker Gunvolt play is simple to grasp. Gunvolt moves through side-scrolling environments and dispatches enemies by tagging them with a gun before blasting them with electricity. As more enemies are destroyed and Gunvolt can avoid getting hit, a "kudos" meter builds up that awards more points for special kills and resets at mid-level checkpoints. Destroying multiple enemies at once or firing the electricity in mid-air will help rack up the points. Gunvolt 2 adds an alternate playable character named Copen, who has a more powerful gun but doesn't have the electrical abilities by default. There is a chance to play as both of them in Gunvolt 2 before committing to one character, but I ended up sticking with Gunvolt.
Unlike similar titles that Inti Creates has had a hand in previously, Gunvolt and Copen gain new powers by way of a crafting system. In theory this would work as a way of containing the abilities, but the parts are locked behind a post-stage random selection. Finding medals in the stages and finishing quickly or without dying gives more draws, yet I only managed to get enough parts for new kit in both games at the end game. The core kit for both characters is strong enough, but I found it frustrating that these more potent abilities were virtually inaccessible for a good portion of the game.
As would be expected for a pair of 3DS games, the Gunvolt titles look sharp in handheld mode. There was a bit of an adjustment period when playing on TV, as I had mostly played Blaster Master Zero in handheld mode so I wasn't used to the pixels being enlarged for TV visibility. It's especially notable in the first game's credits. The music is not really noticeable until the Japanese pop idol overrides kick in, but those songs are a nice reward for the first game and serve as the DLC for the second title.
Inti Creates's first six months on Switch have been quite strong, and this package is keeping the streak alive. Some of the additional content may water down the experience, but both games at their heart are worth a look.