Can a no-nonsense gameplay-focused adventure work in a story-filled genre?
Story is a huge aspect of what we all expect from RPGs. Looking back on genre classics, it's what I best remember, whether it's the opera scene in Final Fantasy VI or the various major reveals in Xenoblade Chronicles. The new Atlus 3DS RPG Legend of Legacy doesn't really have those moments. The story is threadbare, and the entire weight of the game's quality relies on the combat and gameplay. The mechanics nearly make up for the lack of an intriguing plot, but at the end of the day, the game's novel level-up structure and interesting battle mechanics can't carry the full load.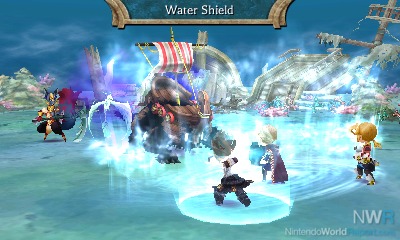 The Legend of Legacy stars seven unique characters and at the outset, you pick one to be your main character. The rest of your three-person party is filled in by two of the others and can be switched as you randomly meet other characters in the game's only town. Each of these would-be heroes features wonderfully written dialog, but outside of a beginning and an ending, they're limited to an occasional line of dialog and nothing else. While every character has a distinct motivation, everyone's task is the same: explore the world of Avalon to uncover secrets. And that's the plot. Naturally, you eventually find secrets, but those secrets don't really feel like they mean anything.
For the most part, the game triumphs past the glaring absence of meaningful story. One of the big reasons for that is the spectacular soundtrack from former Square Enix composer Masashi Hamauzu. I'd argue that the soundtrack is the most important character in the entire game. The other reason The Legend of Legacy succeeds without story is because of the engaging exploration and turn-based battling.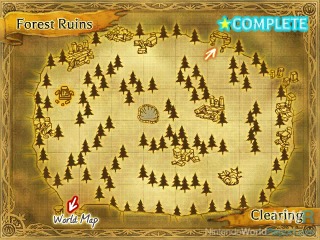 As you enter different areas, you have to explore every nook and cranny to complete the map, which can then be sold for money to buy new gear and items. While the cartography isn't as deep or integral as Etrian Odyssey, it's still fun to do, as filling in maps often leads you to discover off-the-beaten-path areas. Unfortunately, sometimes you might miss an exit or an object in an area you thought you 100% completed because the map doesn't show it (ProTip: there is some debris you need to hop over in the Forest Ruins).
The turn-based battle system is pretty standard, as you use different weapons and special abilities to attack enemies. How you upgrade your stats and get new abilities is interesting, though. You don't go up levels in a traditional sense; instead, your characters randomly power up and earn new abilities through using weapons or skills. For example, the more you use a short sword, the more abilities your character will learn for it. Additionally, the more you use a specific short sword ability, the stronger that ability will get. The combat also uses three different stances (attack, guard, and support) that upgrade as you use them. Place a character in the attack stance, and they'll hit harder; in guard, they are ready to defend; in support, they're best for healing. On top of all this, you also have to deal with various elemental abilities that can also be upgraded. The amount of different variables and stats can be overwhelming, but it's also freeing. No character is really locked down to a certain build, as you can make them whatever you want just by using them. For example, I used the character Meurs and he became my shield-wielding defender; his natural build is that of support.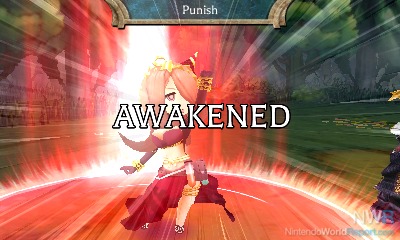 While upgrading your characters can be fun, what isn't fun is getting surprised by a shockingly hard random battle that knocks out your party, requiring you to go back to your last save. The Quick Save option (an optional save method where you can save anywhere) is imperative to use throughout the whole game, especially during the various difficulty spikes. In new areas, regular enemies can one-hit kill your party. I had many frustrations early on, but as I grew to understand what the game expected out of me, I started to play more conservatively. If you're the kind of player that likes to go in guns blazing, this isn't for you. But, if you're down for laying down shields and buffs regularly in battle and strategically planning out your attacks, this combat system might be perfect for you.
It took me around 25 hours to play through the story once, and while a New Game + option exists, there isn't much incentive to replay it. You can pick one of the six other characters to head your party, but all that really changes is the beginning and the ending. The New Game + doesn't even make it that much easier on you to replay it, as your gear and abilities don't carry over.
I'm torn on The Legend of Legacy. Even in the absence of story, I occasionally lost myself in the vibrant world listening to the amazing music, slowly powering up my preferred trio while I explored new maps. Too often, though, I was brutally struck down by a surprise boss encounter or a demonic random battle. The Legend of Legacy is an enjoyable RPG with a variety of unique concepts, but without a story to back it up, it frustrates just as much as it delights.