Still waiting on multiplayer DLC
The Mario Tennis franchise is largely well liked within the Nintendo community. Whether joining a few friends for a doubles match on a home console, or playing through the RPG like single player of the Game Boy games, Mario Tennis is sure to bring a smile to your heart. However, the series' origins as Mario's Tennis tell a different tale; one that lines up perfectly with Nintendo's modern day apprehension towards virtual reality technology.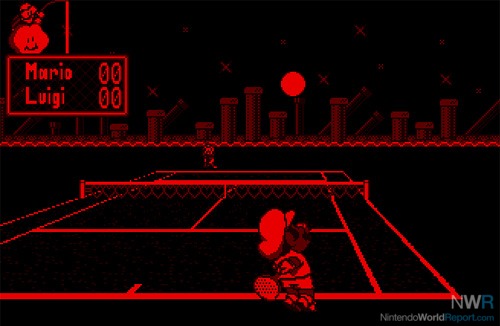 As the game starts up, you'll be greeted by Mario who promptly hits a ball towards your face. This is Mario's Tennis not yours, so back off! If you survive Mario's brutal onslaught and make it to the main menu you'll find a few basic options for play. You can choose between singles or doubles, and then choose to play a single match or a tournament. Interestingly the option for a single match will read "1P VS COM" from which we can infer that at some point a two- player option was likely planned to be added to the game. The Virtual Boy was intended to eventually have a link cable so that two systems could play together. With the system's short life, this never happened. As a result, Mario Tennis is left as a pretty shallow single player experience. Before starting your match you'll also select a difficulty and your player(s). There are seven characters to choose from: Mario, Luigi, Peach, Yoshi, Toad, Koopa, and Donkey Kong Jr.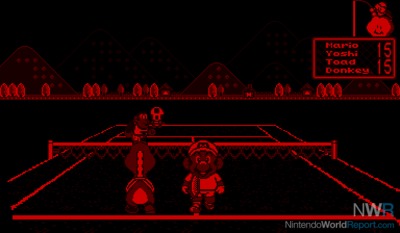 With character's chosen, you now enter the red and black hellscape that is the Mushroom Kingdom. Evidently this game takes place in the "Bowser is victorious" branch of the Mario timeline. Despite the limited color palette, the character sprites all look great. They're big, cartoonish, and expressive whether winning or losing. The 3D also works reasonably well as you take on a fairly low perspective behind your character. The 3D helps you to see when the ball is lined up with your racket. While there isn't much to the game it plays reasonably well. Your character moves with the left D-pad, the A button hits the ball normally, and the B button hits the ball higher. That's really all there is to it. No crazy moves. No signature Mario power-ups. Cartoon characters and hellish environment aside, this is just tennis. That's the true disappointment of this game. Mario may claim that this is Mario's Tennis but he's not adding anything to it beyond name recognition.
Mario's Tennis is a shallow game that doesn't take advantage of its characters. More interestingly it is a isolating, solitary experience. When presented with modern day VR technology, Nintendo has always protested saying that the experience is too isolating. Mario's Tennis makes a strong argument for this. It causes one to realize that Nintendo isn't simply avoiding the future, they're speaking from experience.