One of the first eShop games ever released breaks familiar ground with a sequel.
When the 3DS' eShop opened its digital doors in May 2011, it took nearly five months for more than one game to be put out that wasn't part of the Virtual Console. Those first games being Let's Golf 3D and Pyramids. The latter was a simple puzzle-platformer, but wasn't anything too remarkable. Has Pyramids 2 been able to make itself stand out from the crowd? Well, not really, but that doesn't stop it from being decent.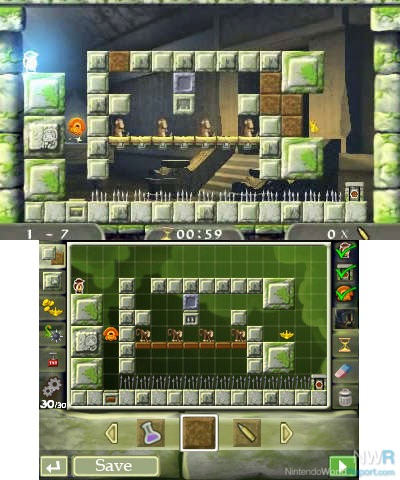 Pyramids 2 is almost exactly like the first game, except that it takes place in a jungle setting instead of a desert, and there are a couple of new obstacles and enemies. The main feature of the game is that you're able to construct and destroy an unlimited amount of bricks that allow you to create platforms, trap enemies, and block projectiles. You can also find bullets in certain stages to take out enemies--but those are rare. Once you find a special key, you can make your way to the stage's exit, similar to games such as Donkey Kong '94, Mario vs. Donkey Kong, or Boomer's Adventure in ASMIK Land.
The puzzles themselves are well designed, for the most part. Every single stage feels unique in its setup, and I never felt as if they were repeating the same kind of puzzle twice. Some of the stages and their associated puzzles that had me both scratching my head and wanting to yank the hair out of it. The latter was especially true when the game introduced a new lamp-lighting mechanic, only to trap me once I found the key, forcing me to restart the level. Thankfully, it's rare that this situation occurs in the game, but it's still annoying.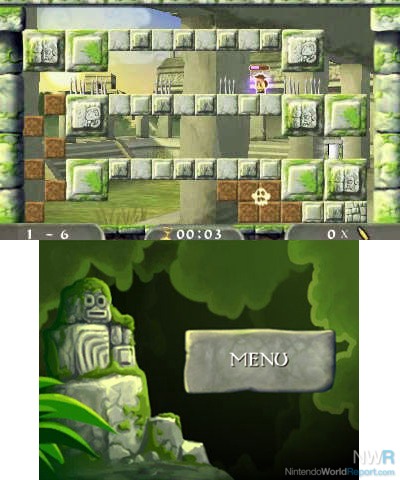 While Pyramids 2 doesn't outright tell you how its mechanics work, it offers enough hand-holding within the first few levels to learn them, making the game extremely well-paced in the process. Controlling the main character felt a bit stiff to my liking when I first started playing, but considering that Pyramids 2 is built around these controls, it's excusable. The game does a good job of placing enemies and hazards in a way that if I die, it was my own fault. Similar to games such as Castlevania and StarTropics, it made me feel that much more satisfied when I completed a level, being able to do so in spite of its odd control scheme.
In the end, the only really bad thing I can say about Pyramids 2 is that it's bland. The music is forgettable, the art style and graphics look generic and bland, and there's nothing in this game that makes it stand out. Sure, there's a level editor that allows you to share custom-made levels via QR Codes, but when trying to scan other people's codes, the game didn't seem to recognize them, making it almost useless. Despite this, I still had some fun with the title, and would recommend it to anyone looking for a brain-teasing puzzle-platformer. Just don't expect greatness.