I smurf to smurf if I smurf smurf one more smurf I'll smurf a smurf.
With a new Smurf movie upon us, Ubisoft has determined to release a new Smurf game upon the world. The game has two parts: a picture book mode and a mini-game mode. You can either go through the picture book and play games along the way or just play mini-games in any order you want. It doesn't really matter what you choose to do. Either way it'll take you about an hour to play everything in the game.
The picture book takes you through the story of the movie. I will say this: the narrator is the only reason I made it through the book. The game is obviously meant for children, but the story was hard to get through, and I doubt even children would want to read the story more than once.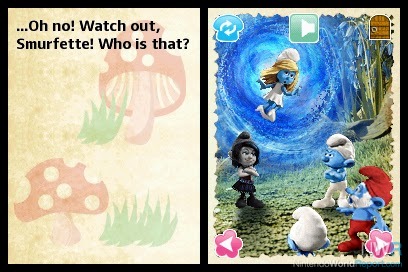 Through the picture book, players can access mini-games by tapping on highlighted Smurfs. Sadly, the mini-games are nothing more than glorified flash games. The catapult game, two memory based games, racing game, matching game and collection game all have two things in common—they last a little over thirty seconds and they're not very fun. Playing through each of these games twice takes a little over 20 minutes. The game offers a Smurf figurine every time you finish a game, hoping you will come back for more. Spoiler alert: You won't. The figurines don't offer you anything. Things might be different if I could learn about each of the Smurfs, but the figurines just stand there and look OK.
I can't see a reason why anyone above the age of 6 would buy this game. The game gets boring quickly and offers very little reason to play past the first couple of minutes. But hey, if you're a Smurf fanatic you may enjoy little blue people dancing across the screen for 30 seconds at a time.