You're a Pokémon Warlord. Let that sink in for a second.
Nintendo's collaboration with Tecmo Koei on Pokémon Conquest creates a strategy RPG that flings players into a world where Pokémon fight alongside powerful warriors, not children who bought some silly Pokéballs. The game follows a new warlord on his adventure through the land of Ransei.
Players control the inexperienced warlord, who hails from Aurora, a village in the Ransei region. The character hears stories of the powerful Nobunaga taking over villages in an attempt to control the entire region. A legend says he who conquers all the kingdoms in Ransei will meet the creator of the world—the ultimate Pokémon—and it's up to you to put a stop to Nobunaga and unite the kingdoms under your flag.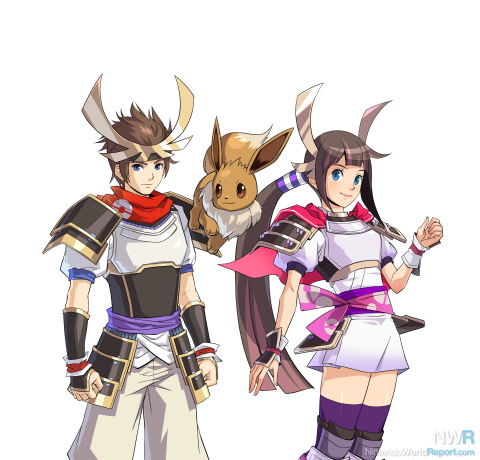 It's up to you and Eevee to unite Ransei!


A beautiful mixture of turn-based strategy and the classic Pokémon RPG style is ever-present in the game—I just wish they committed more to both aspects. Conquest features over 200 obtainable Pokémon, as well as 200 unique characters, each of which has a Warrior Skill—a battle power unique to the individual. Each character also has a Perfect Link Pokémon. In Conquest, Pokémon don't have levels, they have link percentages with their human counterparts. The stronger the link, the stronger they are in battle; a Perfect Link Pokémon can attain a 100 percent link rate with their partner.
Though a little confusing at first, the whole experience is a lot of fun. Conquest is creative in its design; there are new mechanics to understand and master throughout the game. There are plenty of stages to fight on, and battles are far from scarce in the game. The gameplay is easy to pick up on, and should be an absolute joy for anyone who enjoys strategy games.
Conquest's music is fun and appropriate to the game, and its visual style is a delight. Never before have Pokémon been drawn so beautifully in a game; it's almost a shame there are only 200 of them. Seeing them jump around on a battlefield is a nice treat, too.
The main problem I had with the game is that the story only takes about 16 hours to complete. But as soon as I finished, the game informed me there were more stories to play through, adding many more hours to my experience. Even though these scenarios aren't engrossing, they're still plenty of fun to move through.
For those with an interest in either strategy games or RPGs, but not sold on the other, Conquest is the perfect introduction to both. Watching your Pokémon and warlords evolve is a rewarding experience that will keep you coming back for more. Needless to say, the game is aimed toward Pokémon fans, though that doesn't mean it's exclusively for them; anyone can play and get a lot from it. Conquest is a good intro to each type of game it draws from—strategy, RPGs, Pokémon, and everything in between.