I'd like to travel to an alternate timeline where I hadn't yet experienced this game and do it all over again.
Radiant Historia is Atlus' latest DS RPG. With the release of the 3DS, it could prove to be their final major effort on the system. If that is indeed true, then they have gone all out for Radiant Historia. Developed by a team with experience ranging from Shin Megami Tensei to Radiata Stories, Radiant Historia would be the perfect conclusion to their strong support for the DS platform.
Radiant Historia takes place on the continent of Vainqueur, which itself is divided among five states. At the core of Vainqueur lies an ever-expanding desert, which is slowly depleting the arable land. The desertification process has brought the religiously driven, technologically advanced state of Alistel into conflict with the powerful kingdom of Granorg.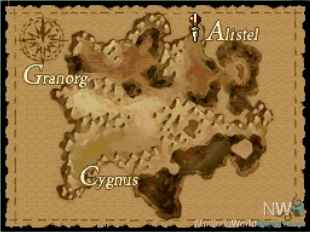 Vainqueur
The lead character, Stocke, is a member of Alistel's military intelligence division. The game begins with him receiving a mission to rescue another intelligence officer, but before he can leave, his superior presents him with an old book known as the White Chronicle. When his rescue attempt goes awry, Stocke finds himself confronted by two children who inform him that the White Chronicle will allow him to revisit past experiences and alter their outcome.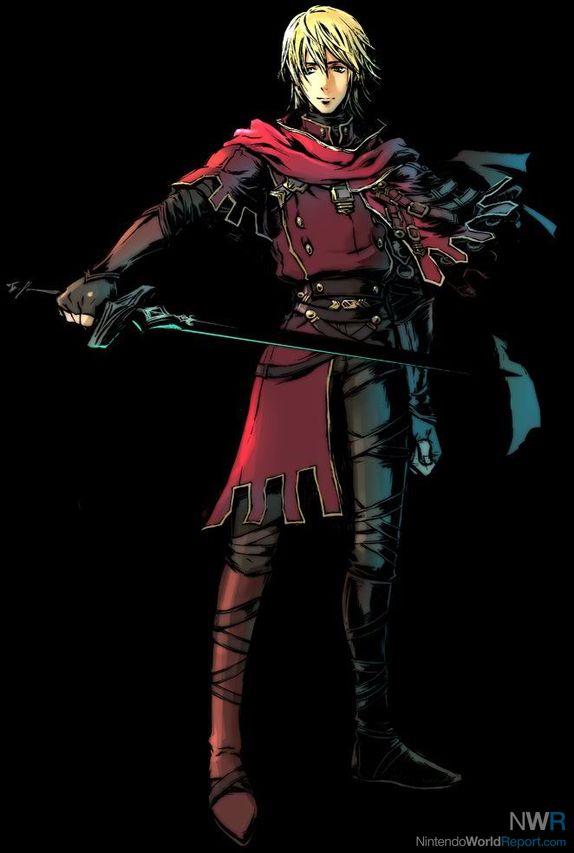 Stocke, also known as "that guy in red."
It is that time travel mechanic that makes Radiant Historia unique and compelling. Early on, Stocke has to decide where to place his loyalties, and from that moment, two parallel histories diverge. Using the White Chronicle, Stocke can travel at various points along the timeline of each of these alternate realities. This allows him to revisit crucial decisions, seek knowledge from the other history to solve problems, and even alter the fate of characters. Stocke's ultimate goal is to use the White Chronicle to create the "true history," and stop the desertification.
What is so enthralling about this mechanic is the skill with which it is implemented. While there are moments where the game forces you to the other timeline, usually to resolve a barrier in the first, progress between the two is mostly non-linear. The fact each timeline contains its own story, with its own heroes and villains is impressive. Even the numerous mini-quests, most of which require taking a kernel of information from the quest-giver and using it to find your way within the two histories, provide their own compartmentalized form of non-linearity that can be readily appreciated.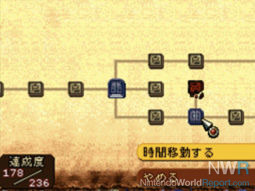 The timeline
The actual combat borrows some elements from strategy RPGs. Enemies appear on a 3-by-3 grid, some taking up more space than a single square. Some characters possess skills that allow enemies to be knocked about the grid. Enemies closer to the front deal more damage, but are also more vulnerable, and they can be stacked on one another, allowing multiple enemies to be hit by a single attack. Later on, foes can even be knocked onto "traps" that the player can lay during their turn, causing a great deal of damage or even status effects.
The game's combat system also takes some inspiration from the timeline-surfing plot. While turn based, there is a great deal of flexibility in ordering. The battles list the next 10 turns on the top screen, but give the player multiple tools to alter that flow including: the ability to switch a party member's slot with the slot of anyone else (enemies included), the ability to erase enemy turns, and the ability to simply replace one party member in a turn with another. Chaining attacks increases their efficacy, and many boss battles require the use of complex turn strategy in order to simply stay alive while slowly bleeding their health.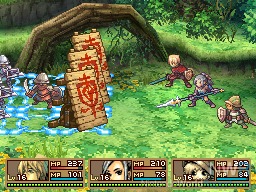 Those barriers in the front row greatly reduce damage enemies behind them take.
Overall, combat generally proves rewarding, if sometimes frustrating. Often times, the field enemies seem to come in numbers that are unduly difficult for run of the mill encounters, though they can usually be avoided. Some boss battles tend to drag on, especially later in the game. Sometimes it feels like only one strategy has any hope of success. Even with those flaws, combat is enjoyable, as each member of Stocke's band has his or her own skill set, and the game rewards you for experimenting with them.
Visually, Radiant Historia is an attractive package that suffers from primitive sprites for your party and the standard RPG trope of re-colored sprites for your foes. Beyond the weakness in sprite design, the hand-drawn representations for the characters are immensely attractive and creative. The various sites of Vainqueur, which are rendered in 3D and portrayed from an isometric perspective, are visually interesting if not the most original (jungle village inhabited by beastmen, a city built with technology at its very core, a standard castle town, etc.).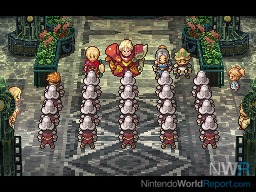 Alistel prepares for battle.
The sound design of Radiant Historia is a thing of wonder. While the game features no voice acting and relatively limited (but solid) sound-effects, the music is possibly the best I've ever heard in a DS title. Yoko Shimomura, known best for her work on Square titles Super Mario RPG, Legend of Mana, and Kingdom Hearts, produced a composition that is both sublime and deeply complementary of the game's story. On more than one occasion I've found myself humming the game's theme, even with my DS locked far away.
Radiant Historia is a fantastic game. As an RPG it tells a distinct and occasionally stirring story, from a unique (and non-linear) perspective. Its combat has enough nuances to encourage experimentation, but is simple enough to enjoy without too much suffering. It looks good and sounds wonderful. The abundance of sub-quests, some of which are difficult to resolve, and the presence of multiple endings add a lot to what is already a 30 to 40-hour game. While the game isn't quite transcendent, it's still a fantastic title and should be on the must-own list of any fans of RPGs.