The best generation of Pokémon is coming to a new generation of fans.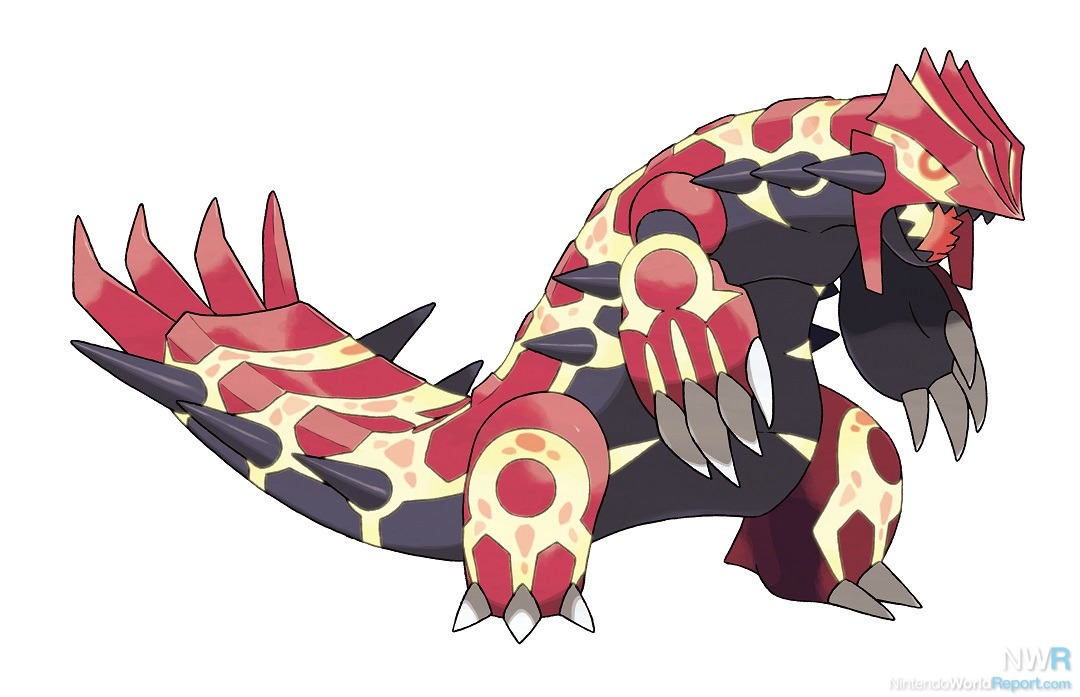 Pokémon Omega Ruby and Alpha Sapphire were only announced a few weeks ago, but the power of CoroCoro magazine leaks and E3 2014 have given us more than enough to dig through. The games are now coming out on November 21 (Canada is up in the air and Europe is getting the pair on November 28) and we have some idea of what they will look like, as well as lots of new Mega Evolutions and quite a bit more if you look below the surface.
First off, let's talk about what Omega Ruby and Alpha Sapphire are going to be. The E3 trailers showed off gyms (presumably the initial Rustboro one among them) in addition to Fortree City, Seaside Cycling Road (the one right above Slateport), and what looks like the area right after Petalburg Woods and right before Rustboro City. From seeing this, it's clear that Game Freak is taking Ruby and Sapphire and putting it in the X and Y engine (complete with new character art for everyone in the style of X and Y, including our protagonists). It could be just me, but, much like the jump from Diamond and Pearl to the Silver and Gold remakes, the colors do seem just a bit sharper and brighter than the 2013 games.
As for the region of Hoenn, Nintendo released new, extremely detailed artwork of the world map. Some of the landmarks seem new, with a few head-scratching locales like that weird ghostlike purple splotch at the top. However, most of the map seems extremely faithful and similar to the original games. Granted, there are some clouds that look like they're intentionally covering parts of the map up, but I wouldn't be surprised if these have just as few, if not fewer, new areas than HeartGold and SoulSilver.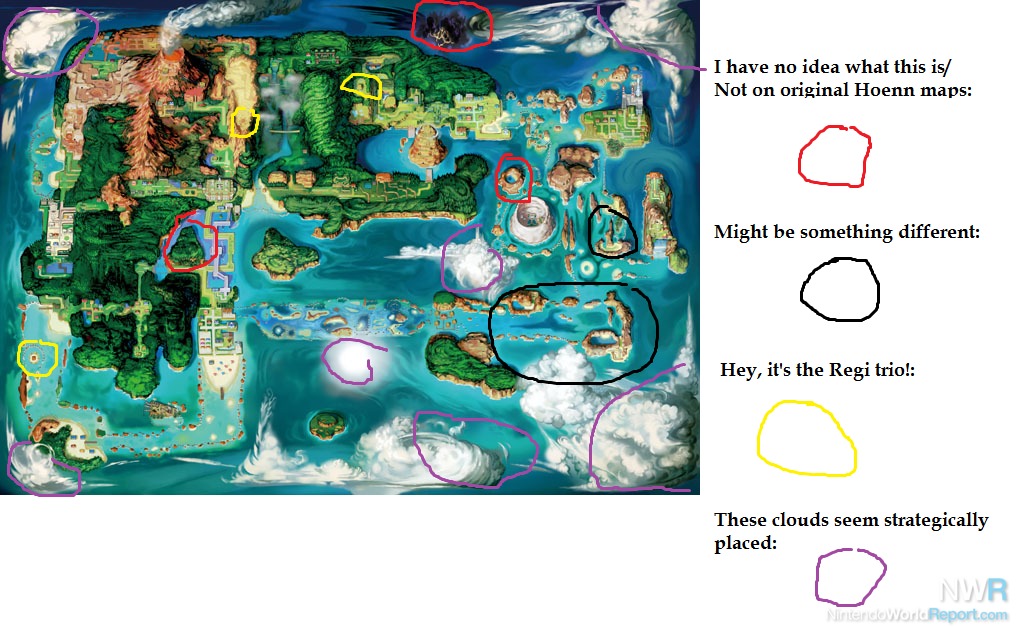 I drew a bunch of circles of some interesting stuff I spotted on the map, though I didn't look at every nook and cranny (there could be small things I missed). If you had any doubt, the Regi trio does seem to be coming back based on that map. What are the odds that our beloved braille adventure comes back too?
Thankfully, the games won't end up being entirely straight remakes. The champion of the original, Steven Stone, has a Mega Charizard X and is trying to discover the secret of Mega Evolution. In addition to Blaziken (who seems to be taking on his X and Y form instead of pulling a Charizard and getting a new one), Sceptile (now with Dragon type and the Lightning Rod ability), Swampert (now with the Swift Swim ability), Diancie (now with a mystery ability), and Sableye are all getting new Mega Evolutions (as you can see in the trailers below).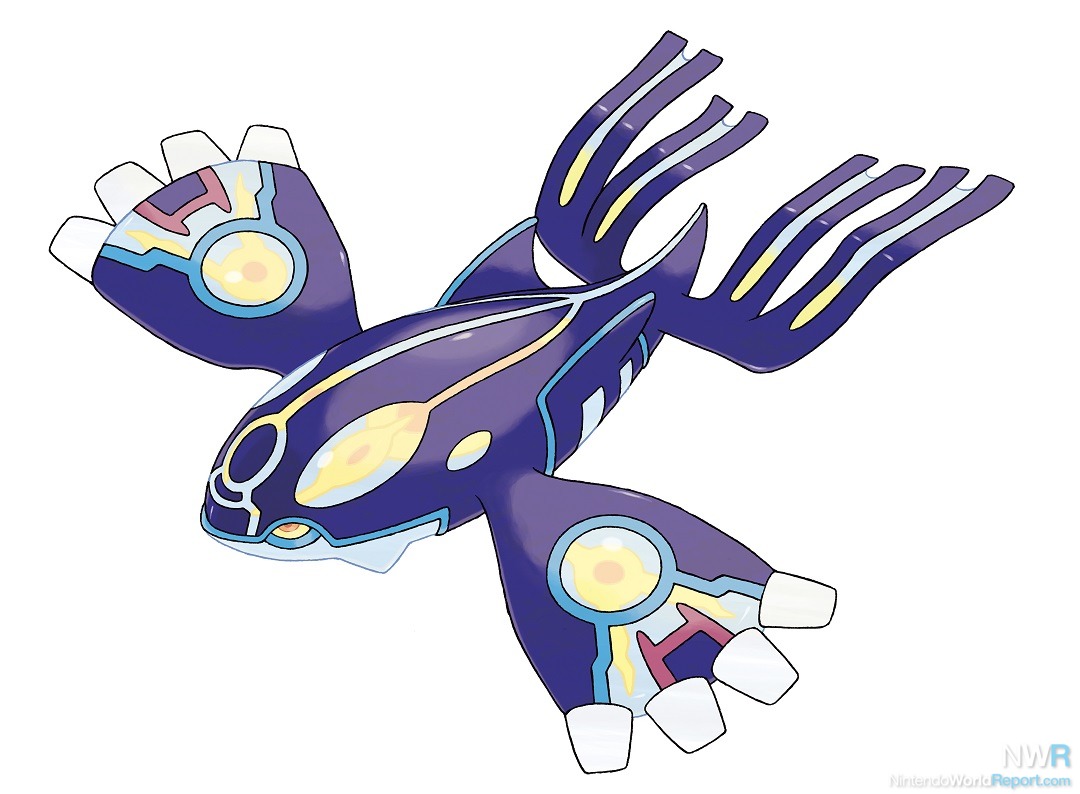 Groudon and Kyogre also seem to be getting something akin to Mega Evolutions (as I predicted in my first preview), though these guys are called Primal Groudon and Primal Kyogre rather than Mega Groudon or Mega Kyogre. They gain their new forms through a process called Primal Reversion, which takes them to their prehistoric state. Groudon is now Ground/Fire type (he is just Ground normally) and gets a boosted Attack stat, while Kyogre gains Special Attack and no new type. There is a chance that the story is only adapting as necessary to X and Y's plot, but I really hope the game does more to make the game bigger and better than the Team Magma and Aqua plot from the originals.
Speaking of which, Team Aqua and Team Magma are among features in the original games returning to the sequel. Maxie and Archie return to Magma and Aqua along with two admins respectively, and like Ruby and Sapphire, the team you face depends on your game version. Hopefully the story includes both teams like the original, with one being more sympathetic, while incorporating as many enhancements from Emerald as possible.
Lastly, let's briefly go over the three trailers released during E3:
This is the trailer released during the Nintendo Digital Event. After the amazing intro that doesn't tell us much, we get treated to a quick overview that focuses on the general games as well as the new Groudon and Kyogre forms. Outside of stuff mentioned above, the only especially interesting things are the beach battle with Mudkip that looks like that pre-Slateport beach (beautiful), Mr. Briney's boat (that takes you to Dewford and Slateport), and the new designs of Maxie and Archie, with the former donning glasses and the latter appearing to change to a much darker skin color.
Not a ton to see here since it focuses directly on Sableye's new Mega Evolution, but the form itself is cool. His eyes become red jewels (a Ruby perhaps?), his head spikes get more pronounced (and gains a middle one), and he now defends himself with a big red jewel that appears to exploit opponent weaknesses and act as a powerful defensive tool.
In this final E3 trailer, the biggest thing here we see is the return of Mach and Acro bikes. The Mach Bike is used to go fast and go up things like slippery mud, and the Acro is a slower, more technical bike that allows you to do more careful maneuvers like get over paths too skinny to walk across. From there, the evil teams, the starters, and the legendary Pokémon are showcased, but the trailer closes with a reveal of Mega Diancie. As opposed to the original, Mega Diancie is bigger and shinier, with all of the dull rock parts removed and replaced with diamonds and jewels. As of yet, its new ability (should it get one) is unknown.
And there you have it. This fall is looking like a pretty good time to be a Pokémon fan with this and Pokémon Art Academy releasing in North America within relative proximity to each other. Are you excited for these games? Are you more excited now than you may have been before? Are you counting off the days until November 21? Do you just want to say how bad you think Ruby and Sapphire are? Whatever your reason to give us a shout, feel free to sound off in the comments below.