The Tales series introduces itself to the 3DS with one of its greatest offerings.
Originally released on the PlayStation 2 roughly six years ago, the popular JRPG Tales of the Abyss returns to relevance with its upcoming 3DS port.
In Tales of the Abyss, you play as the sheltered son of a noble family, Luke fon Fabre. After being kidnapped at a young age and losing all his memories, he is confined to his family's mansion. However, the appearance of a mysterious assassin, Tear Grants, in his family's mansion rips him from his sheltered existence and catapults him into a journey full of conspiracy, warring nations, and secrets concerning his own past.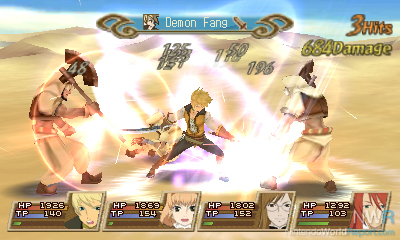 Like the other games in the series, Tales of the Abyss employs a variance of the Linear Motion Battle System—the Flex Range Linear Motion Battle System (FR-LMBS), specifically. The mechanics of this system allow the player to directly control one of his party members on the field in a real-time battle. This movement option, called "Free Run," can be triggered to gain better attacking position or avoid enemy spells and attacks.
Even when not in Free Run, players can move characters forward and backward along a linear line to a selected enemy (hence the title), a mechanic closely reminiscent of a fighting game. Players also have more traditional battle controls, such as choosing attack patterns, spells, and special attacks for the AI controlled allies.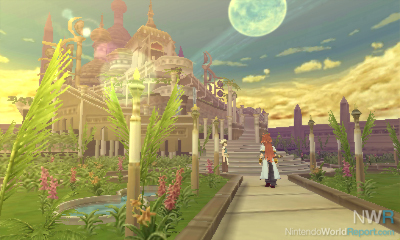 The 3DS release is more or less a direct port of the North American PS2 version of the game, meaning that the main additions to it are routine graphical tweaks, and have little to do with the core in-game content of the original. Aside from greater portability, the inclusion of stereoscopic 3D, the use of the touch screen for menus and programmed battle shortcuts, and the loss of multiplayer, the game is virtually identical to its original North American release.
Regardless of the conservative nature of the port, the original Tales of the Abyss was a wonderful game, and with the added portability, this version could well be a worthwhile addition to any 3DS owner's library.