Ubisoft's Wii U launch title has gyro controls and an RTS-esque multiplayer mode.
Killer Freaks from Outer Space, developed by Ubisoft Montpellier, who worked on most of the recent Rabbids games, is a first-person shooter inspired by Duke Nukem and Left 4 Dead. Taking place in a world attacked by aliens, the player controls people fighting to survive against these freaks, who in the demo shown, looked kind of look like killer Raving Rabbids. However, there are many different forms of aliens of all shapes and sizes. The goal, according to the developer, is to have a variety of creatures with different abilities, much like Valve's Left 4 Dead zombies.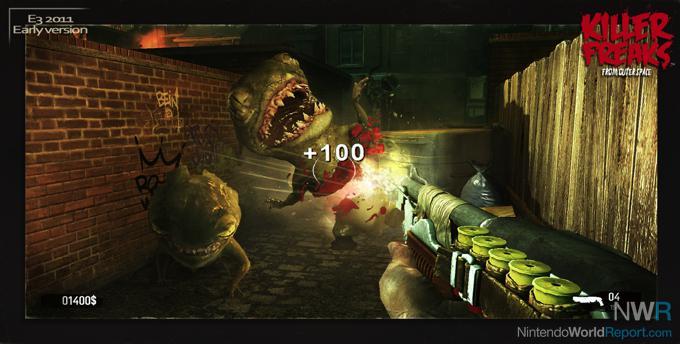 Also like Left 4 Dead, the game features an AI director. In this game, it is called the RED System, which stands for Real-time Enemy Director. This is used in the single-player, and also in the multiplayer. During the demo, there was an interesting two-player mode shown off where one player played the role of the director, with an overhead view of the battlefield. From this vantage point, they could send packs of aliens at the other player, who plays a traditional first-person shooter using the Classic Controller. Following the presentation, one of the game's developers told us that this mode will likely involve up to four players competing locally against the enemy director.

The Duke Nukem inspiration is shown in the game's sense of humor and violence. The character in the single-player mode cursed like a sailor, and made plenty of Duke-esque snarky comments about his plight. The creatures themselves are sickly humorous, with creepy smiles and vicious attacks. There was even a section of the demo that showed two aliens spanking each other. The guns are also crazy. There is one that shoots sawblades, and another shot some sort of electric bolt.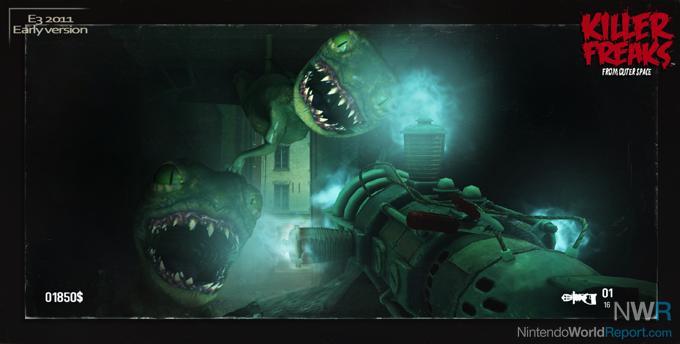 The controls for the most part are what you'd expect from a Classic Controller-controlled first-person shooter, especially since the Wii U controller resembles the Classic Controller. When using the Wii U controller, you can also use the controller's gyro sensor to move around that way. It looked like this control could be used with the twin stick control. The use of the controller, which displayed the same as the television on the touch screen, shows that you could very likely play the game without the use of a television, much like how New Super Mario Bros. Mii was shown.

Killer Freaks from Outer Space is poised to be a launch title for the Wii U in 2012. The first-person shooter with a motto of "living room fun!" could prove to be an interesting title as we hear more about it over the next year.