by Becky Hollada - 10:10 pm EDT
Total comments: 3 Source: ESRB.org
E for Exciting!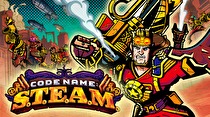 Although it's not set to release until 2015, ESRB has already given Nintendo and Intelligent Systems' new Codename: S.T.E.A.M a "T" (Teen) rating.
ESRB cites Blood, Fantasy Violence, and Mild Suggestive Themes as reasons, as well as noting that online gameplay "may expose players to unrated user-generated content." Here is a short, full rating summary for the game as it stands in its current stage of development:
Read more...