by Pedro Hernandez - 10:42 pm EDT
Total comments: 4 Source: (Square Enix), https://member.eu.square-enix.com/en/blogs/heroes-...
Square Enix and n-Space are prepping up an epic 3DS exclusive for 2012.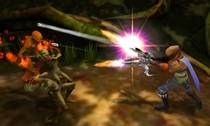 Square Enix officially announced that they have partnered with n-Space for a new 3DS game called Heroes of Ruin, set to be released in 2012. The game was revealed by n-Space earlier this week.
In Heroes of Ruin, up to four players can participate in exploring dungeons, raiding treasures and defeating... Read more...