And your reward is clothes and a unique type combo.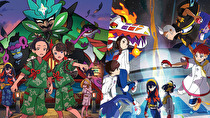 The expansion pass for Scarlet and Violet is going to include a trip and a new exchange program.
Announced as part of the Pokemon Presents presentation, "The Secret Treasure of Area Zero" is an expansion pass for Pokemon Scarlet and Violet that will be available for pre-purchase later today. The first part "The Teal Mask" will launch in the fall and the second, "The Indigo Disk" will follow in winter; part 1 is portrayed as a school trip while the second is intended to be the character participating in an exchange program with "Blueberry Academy".
Purchasing the pass early will include new clothing for the main character, and if purchased by October 31, 2023 will provide a one-time code to use a special Hisuian Zoroak in the game.
The next raid event for the base game introduced two new Paradox Pokemon - "Walking Wake" is an ancient Water/Dragon type exclusive to Scarlet, while "Iron Leaves" is a Grass/Psychic type exclusive to Violet. They will be available in raids starting today, which will require the version 1.2 update as the data for these new Pokemon was not in previous versions of the game.