20 minutes seems like a lot of time, but it's the same as we got last year.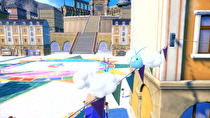 The 27th anniversary of Pokemon is not getting marked quietly.
A Pokemon Presents video has been announced for Monday, February 27 at 9 a.m. ET / 6 a.m. PT / 1500 CET. It will run for about 20 minutes.
A similar announcement in 2022 included the reveal of Pokemon Scarlet and Violet, plus updates for Pokemon Legends: Arceus and Pokemon Go.