So many Mausholds it's going to start a housing crisis.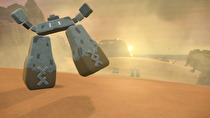 The holiday quarter was unusually light in release quantity for Nintendo, but even when down year over year there were still record breaking numbers - both now and in the future - for Nintendo per their quarterly results released earlier today.
All figures based on Nintendo data from October 1 - December 31 2022, and all financial figures are quoted in yen with an approximate comparison based on the market rate of USD$1 = 132.14 yen for context only.
Financial Indicators
Revenue: 638.204bn yen (~$4.63bn) in the quarter, down 57.724bn yen (~$436.9mn) year over year
Operating income: 190.154bn yen (~$1.439bn) in the quarter, down 62.387bn yen (~$472.1mn) year over year
Ordinary income: 160.116bn yen (~$1.21bn) in the quarter, down 117.298bn yen (~$887mn) year over year - see below.
Digital game sales and subscriptions: 122.2bn yen (~$924.8mn) in the quarter, up 11.4bn yen (~$86.2mn) year over year
Royalties and mobile revenue: 15.4bn yen (~$116.5mn) in the quarter, up 1.1bn yen (~$8.32mn) year over year.
Nintendo's foreign currency holdings were cut in more than half comparing values at the end of the September quarter to December (76.4bn yen in September, 28.9bn yen at the end of December), which has caused the sharp decrease in "ordinary income". As well, last year's Q3 contained first shipments of the Switch OLED model.
Hardware Shipments
A total of 8.22m Switch consoles (4.16m OLED, 2.98m regular, 1.08m Lite) were shipped in the quarter, for a new total of 122.55m systems shipped. With this, the Switch has passed the Game Boy (Color) and has become the second best selling system ever sold by the company. Shipments of 31.47m units are required to pass the best-selling system in company history, the Nintendo DS.
Software Results (Current)
Nintendo only had two software releases in the quarter, with Bayonetta 3 (October 28) shipping 1.04m units - but Pokemon Scarlet and Violet (November 18) more than doubled its opening weekend sales to the tune of 20.61m copies shipped in the quarter. It has already reached #7 on the Switch's top 10 sellers.
Other recent releases of note: Splatoon 3 now sits at 10.13m shipped, Xenoblade Chronicles 3 at 1.81m, Nintendo Switch Sports 8.61m, Kirby and the Forgotten Land 6.12m units, and Pokemon Legends: Arceus 14.63m copies.
The rest of the top 10 was led, as is tradition, by Mario Kart 8 Deluxe which shipped 3.59m units in the quarter and now sits at 52m units. Animal Crossing; New Horizons rose to a lifetime 41.59m shipments (1.43m in Q3), Super Smash Bros Ultimate has entered the 30m club with 30.44m lifetime sales (910k), the Switch version of Breath of the Wild now sits at 29m (1.21m quarter) with about four and a half months to go for its sequel, Pokemon Sword/Shield caught 25.68m copies (310k), Super Mario Odyssey is up to 25.12m lifetime (720k), Super Mario Party has now shipped 18.79m copies (440k), 15.22m copies of Ring Fit Adventure have shipped (350k), and surprisingly Pokemon Let's Go rounds out the top 10 at 15.07m shipments (260k). Pokemon Brilliant Diamond and Shining Pearl have fallen out of the top 10.
Modifications To Projections
Although chip shortages appear to have abated, Nintendo has still revised their projections for hardware downward to 18m (from 19m, they are at 14.9m already for the fiscal year) and software from 210m to 205m units. Nintendo reported lower-than-expected "sell through" (to customers, as opposed to shipping units) during the holiday quarter, resulting in fewer shipments required for the January-March quarter. As a result, the financial projections (revenue, operating income, ordinary income) have also decreased by a few percent, alongside a projection change for foreign exchange.
Schedule changes
Currently, the announced five games for 2023 (Fire Emblem: Engage, Kirby's Return To Dream Land Deluxe, Bayonetta Origins, The Legend of Zelda: Tears of the Kingdom, and Pikmin 4) remain unchanged; Metroid Prime 4 and Advance Wars 1+2 Reboot Camp remaining "tba".