Banjo-Kazooie out today, Terry Bogard is coming to Smash Bros. Ultimate, and there's still more to come.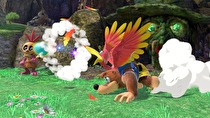 Fatal Fury's Terry Bogard is the latest DLC character for Super Smash Bros. Ultimate, while Banjo-Kazooie is being released later today.
Banjo-Kazooie will be arrive today following the conclusion of today's Nintendo Direct. Masahiro Sakurai will be providing a demonstration of the character immediately after the Direct.
Terry Bogard was also announced as the next playable character. His reveal trailer was heavy on SNK/NEO GEO nostalgia, featuring the classic arcade intro. Several fighters from Fatal Fury including Geese Howard, Ryo, and Iori were seen trying to snatch the Smash Bros. invitation. However, it was Terry who was able to grab it.
Today's Direct also announced that more characters beyond the five Fighter's Pack characters will be coming.
Terry Bogard will be playable in Super Smash Bros. Ultimate in November.