Could the Gamescom/PAX doubleheader be off?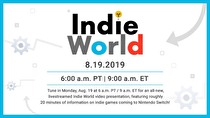 A live video presentation Monday will lay out upcoming Switch indie games.
Nintendo will be airing a "Indie World" video Monday morning (August 19) at 9 a.m. ET / 6 a.m. PT / 1500 CET. The video will be approximately 20 minutes long.
"Indie World" has been used for independent games-focused presentations in Japan previously. A "Indie Highlights" video aired approximately a year prior to Monday to cover European-developed titles close to Gamescom, while the "Nindie Showcase" series typically aired around the Game Developer's Conference and PAX West.