Today at QuakeCon... DOOOOOOOOOOOOM!!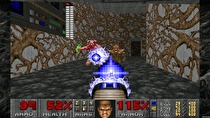 This week was busy enough, but now it's gone to hell.
Listings have appeared on the European eShop for the first three Doom games, all of which will launch today. Doom and Doom II will be €4.99/£3.99, while Doom 3 is priced at €9.99/£7.99.
Listings haven't appeared in North America yet, but the annual QuakeCon (referred to as DoomCon this year due to Doom Eternal) is this weekend.
UPDATE: North American pricing is $4.99/$6.49 for I and II, and $9.99/$12.99 for III. The games as launched were configured to require a Bethesda.net login despite having no online connectivity otherwise, but Bethesda has confirmed that this was intended to be optional and patches are forthcoming.