Touch 'em all, Metalhead Software: you'll never hit a bigger home run in your life.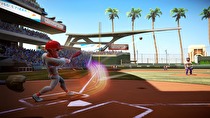 We can scratch one of our Most Wanted Switch Ports off the list for 2019.
Super Mega Baseball 2, the hit arcade-style baseball simulation from Canadian developers Metalhead Software, will finally release on Switch next Thursday for US$29.99. The Switch version will include all of the DLC for the game that previously released on PlayStation 4, Xbox One, and PC.
The Switch version is designed to run at 60FPS in both handheld and docked modes, and in addition to a full Pennant Race players can play online cross-platform or locally with up to four players. An "Ego" system can be used to make minute adjustments to the game's difficulty.
Radio Free Nintendo discussed Super Mega Baseball 2 on the May 20, 2018 episode.