The Wall Street Journal suggests that Nintendo is both managing possible tariff expenses and planning new hardware revisions.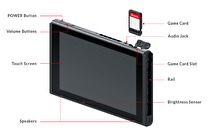 Nintendo has moved some of their manufacturing for the Nintendo Switch console outside of China to Southeast Asia, according to Wall Street Journal sources from the videogame company's supply chain. The Journal's sources are also claiming that additional models beyond the current Switch version are being manufactured outside of China as well.
A Nintendo spokesman declined to comment on rumored new Nintendo Switch hardware, but did confirm that the console is now mostly made in China and that the company is always evaluating where its products are being assembled.
It's not clear where exactly in Southeast Asia this new production might be taking place, but this is likely driven by proposed US tariffs that, if enacted, would make it more costly to import certain categories of China-made consumer electronics into the world's largest game console market.
Nintendo has NOT confirmed any upcoming Switch hardware revisions, but rumors around hardware updates have continued to appear. Earlier this year The Wall Street Journal themselves reported that Nintendo was planning two new models, one with a lower price point and another focusing on improved components.