Last year's E3 reveal is this September's noted mecha action title.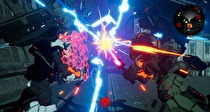 Nintendo announced that Daemon X Machina will be launching on September 13 of this year during their E3 2019 Direct presentation. The trailer announcing the date showed off new footage of the mecha action game, including plenty of footage of the human pilots, menacing flying drones, on-foot gameplay, aerial combat, and plenty of frenzied mecha combat interspersed with explosions.
Originally revealed last year at E3 2018, the Switch exclusive is being developed by Marvelous and subsidiary First Studio.