Make your own paths, use new tools, lay down outdoor furniture, and get abandoned on a deserted island!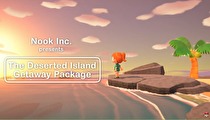 Animal Crossing: New Horizons has been delayed to March 2020. That may or may not have to do something with Nook apparently depositing players on a deserted island to start the game as seen on Nintendo's E3 2019 Direct.
The hook involves getting an invite to the Nook Inc. Deserted Island Getaway Package and living on your own on an empty island. This latest footage shows how this subtle riff both continues and evolves traditional Animal Crossing gameplay. Instead of a house, you start with a tent. You can collect resources and craft furniture now, but also put it outdoors. There are new tools and actions, like pole vaulting across a river with a stick, or digging up entire trees to replant them elsewhere. The game boasts support for 8-player multiplayer and Oh! You can manually create your paths instead of having to run them down organically!
You can look forward to Tom Nook presenting you an itemized bill of 49,800 bells when Animal Crossing: New Horizons releases in March 2020.