The subscription service promises over 10,000 graphic novels, manga, and comics from partners that include IDW, Valiant, Dynamite, Humanoides Associés, and Andrews McMeel.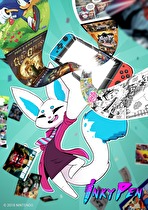 Norwegian venture InkyPen is launching their InkyPen service exclusively on the Nintendo Switch this November. The company touts InkyPen as an all-you-can-read comics subscriptions-based service, promising more than 10,000 digital comic strips, graphics novels, and manga on offer in exchange for a $7.99 monthly fee (€7.99 or local equivalent). According to InkyPen CEO Ronan Huggard there is "no intention of selling content piecemeal, there are other places for that. We're bringing an all-you-can-read model to the international community."
Expected to launch simultaneously across the USA, Canada, Europe, Australia, Africa, Russia and Mexico, InkyPen touts itself as "the first international non-game item launching on Nintendo eShop." The developers promise comics in a variety of formats and from an assortment of partner publishers, including:
IDW Publishing
Dynamite Entertainment
Valiant Comics
Les Humanoïdes Associés
Andrews McMeel Publishing
Specifically, the announcement trailer for the service clearly displays the following comics series:
Faith
Locke and Key
Warhammer 40,000
Transformers
Battlestar Galactica
Dark Souls
The Incal
Castaka
Sonic the Hedgehog
Bloodshot
The Valiant
My Little Pony
The Metabaron
Judge Dredd
Archer and Armstrong
InkyPen will support both Handheld and TV Mode viewing, as well as a touch interface. InkyPen is developing the title with the help of Rain Games, whose previous titles Teslagrad and World to the West have both seen releases on the Switch.