The point-and-click adventure classics are due "in the coming months."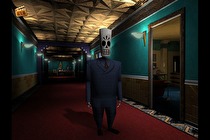 Last night Double Fine Productions announced that it is bringing LucasArt's classic 1998 point-and-click adventure title Grim Fandango to the Nintendo Switch last night. The game maker also committed to a Switch release of the 2014/2015 crowdfunded Broken Age, a modern day return to the point-and-click genre. Neither game has an exact release date, only promised "in the coming months."
Grim Fandango Remastered originally updated the noir and day of the dead inspired detective tale for Playstation, PC, Mac, Linux, and mobile platforms in 2015. Broken Age is known for raising more than $3.4 million in crowdfunding from fans and was released in two episodes in its original form. Tuesday's E3 Coliseum event was the stage for the announcement, which also featured a reading of excerpts from the Grim Fandango script from the original cast 20 years after the game debuted.