Announced by a quiet change in the eShop listing.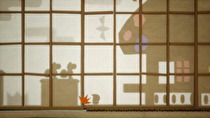 Yoshi for Nintendo Switch (working title) was a no-show at the E3 2018 Nintendo Direct. If that surprised you given the game's 2018 release window, there's good reason it's absent from the spotlight: It's now due to come out in 2019 instead.
Along with Fire Emblem: Three Houses this makes two major Nintendo first party titles that have slipped from 2018 to 2019. Aside from the almost stealthy change on the title's eShop listing, no additional details are available yet as to why the game was pushed back when it was already in a playable form at last year's E3. However, there's two more days to E3, so we'll be sure to update this story if more details as to the game's status surface.