Earlier than expected, with Amiibo to follow later this year.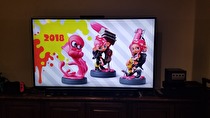 Nintendo has just announced that Octo Expansion, the Splatoon 2 DLC that adds more single player campaign missions where you can play as Octolings instead of just Inklings, is releasing earlier than anticipated: around tomorrow evening (June 13) in North America.
In addition to the surprise release, Nintendo also shared that the Octo Expansion's new characters will get their own Amiibo figures: an Octoling in swimming form, an Octoling Boy and an Octloing Girl. These are slated for release later this year.
The announcements at the Splatoon 2 World Championships were preceded by word that weapon and stage updates for Splatoon 2, which were originally slated to run for a year from the game's launch, would run at least through the end of 2018.