One down, 150 to go.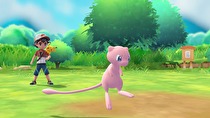 Mew will be in each Pokeball Plus this fall.
It was announced on today's Nintendo Direct that the Pokeball Go Plus will come with the 151st Pokemon, Mew, upon launch. Previously, the only way to obtain Mew in Pokemon Go was to complete a series of story events that would allow you to capture the legendary upon completion.
The Pokeball Go Plus device can serve as a alternative to the joy-con for both Pokemon Let's Go Eevee and Pikachu. Using the device, you can capture Pokemon with a flick of the wrist.
Pokemon Let's Go Eevee and Pokemon Let's Go Pikachu, along with the Pokeball Go Plus, will be released on November 16, and a bundle will be available.