A marvelous Direct opener.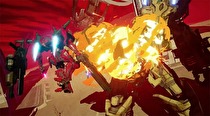 Nintendo's 2018 Direct opened with a 2019 mech game.
Developed by Marvelous using Unreal Engine 4, Daemon X Machina was tabbed for a 2019 release. The video shows combat between smaller human-sized mechs and larger mechs. Specifically, mechs appear to be termed "arsenals" in the game, and are fully customizable. They can fight on ground and in the air and swap out equipment on the fly, even salvaging from downed mechs in the middle of the battlefield.
A fact sheet bills the mecha game as "from Kenichiro Tsukuda," a Producer from the Armored Core series of Mecha games. Additionally, the character designs were created by Yusuke Koozaki, who's credited with work on the Fire Emblem Awakening and Fire Emblem Fates games. Mech concepts are credited to Shōji Kawamori, who worked not just on the Armored Core franchise but also the Super Dimension Fortress Macross anime.