And alternate forms for the Smash ones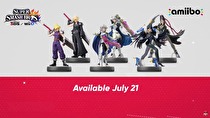 Some long-awaited Amiibo will finally release this summer, with some variants as well.
The Smash Bros series Cloud, Corrin and Bayonetta will launch on July 21, and each character will have two forms including a female Corrin. Some of the alternate forms will be retail exclusives.
Three additional 30th anniversary Amiibo for the Legend of Zelda series will also release on June 23.