Finally, you don't have to see Takumi every time.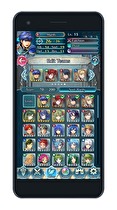 Fire Emblem Heroes is changing up the roster and retaining some popular launch promotions.
A new hero set called "Family Bonds" replaced the two standing pools in today's update. The new pool's 5* Focus characters are from the GBA's Sacred Stones (Eirika, Ephraim) and the Japanese-exclusive Genealogy of the Holy War (Seliph, Julia). The first Paralogues and other quests, some of which require the focus characters, have also been added.
The 2 orb/day "Launch Release Bonus", originally slated to end this week, has also been extended to March 14. The half Stamina cost for the Training Tower option and no-cost skill equipping, which were a part of the celebration, have been extended indefinitely, while a boost to experience for beating enemies under the current level will be added in early March.