80% of the second generation will soon be available.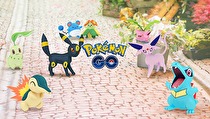 The Pokédex in Pokémon Go is about to get an infusion of entries.
Niantic announced earlier today that later this week, eighty Pokémon that debuted in Pokémon Gold and Silver will be added to the available roster. This will be in addition to the baby Pokémon that debuted late last year, but will not include legendaries.
New evolutionary items will also be introduced to allow for evolution of Pokémon of the first generation that evolved in Gold/Silver. This covers Slowpoke, Poliwhirl (alternate evolutions), Onix, Seadra, Scyther and Porygon.