Getting ahead of some upcoming bundles.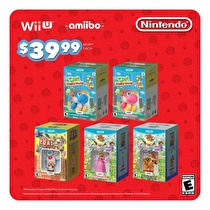 Although they'll be coming in bundle form soon, some Wii U retail games have had their price reduced on the NA eShop effective today.
Captain Toad Treasure Tracker, Mario Party 10 and Yoshi's Woolly World are all now showing prices of US$29.99 or C$39.99. This is a $10/$5 drop for Captain Toad, and a $20 drop for Woolly World and Mario Party 10.
All three games are slated to receive new retail bundles on September 9 that include a compatible amiibo for $39.99/$49.99.
Thanks to Emily for alerting us.