Build up your library with some inexpensive games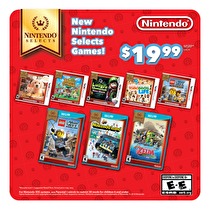 The Nintendo Selects line will be gaining some new members in North America, along with new hardware bundles.
Beginning on August 26, the following games will be reduced to US$19.99/C$29.99 both in stores and on the eShop where applicable:
Wii U: The Legend of Zelda: Wind Waker HD, Nintendo Land, LEGO City Undercover
3DS: nintendogs + cats: Golden Retriever, Luigi's Mansion: Dark Moon, LEGO City Undercover: The Chase Begins, Animal Crossing: New Leaf, Tomodachi Life
August 26 will also see the release of a smaller New 3DS bundle with a preinstalled Super Mario 3D Land. The bundle will come with two faceplates, and will be sold for US$149.99 at Walmart and Target. The two faceplates will feature a Mario design and an 8-bit collage.
On September 9, three Wii U games will receive new amiibo bundles: Captain Toad: Treasure Tracker with a bundled Toad, Mario Party 10 with Peach or Bowser (Mario series) or Yoshi's Woolly World with a blue or pink Yarn Yoshi amiibo. The new bundles will retail for US$39.99.