A pre-trial hearing will occur a couple of weeks before.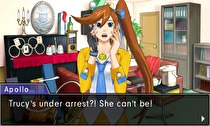 The latest trials of Phoenix Wright and company will happen early in September.
Phoenix Wright Ace Attorney: Spirit of Justice will launch digitally in North America and Europe on September 8 for US$29.99 / €29.99 / £24.99, the same price as the previous two 3DS entries. A demo for the new game will be available on August 25.
Capcom has also released a new trailer for the game which you can see below: