Make a wish to find that last red property in McDonald's Monopoly.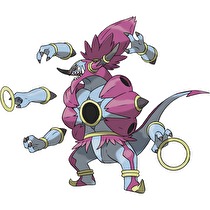 The US distribution has been announced for Pokémon #720, the mysterious genie Hoopa.
The mischevious genie will be made available at McDonalds restaurants in the US from November 27 to December 23. No word on how it will be handed out in Canada, but it has been distributed in some Asian countries including Japan and some European countries, including France from 2 - 22 November at Micromania stores.
Hoopa will come in a Cherish Ball at level 50, with Psychic, Astonish, Nasty Plot and one of its trademark moves, Hyperspace Hole. Although all 3DS versions of Pokémon will be able to obtain it, the Prism Bottle needed to turn it into the Unbound form can only be obtained in the Poké Mart in Omega Ruby and Alpha Sapphire games.