As rumored, the (board) games begin in early November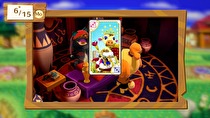 The last piece of Nintendo's North American holiday lineup has fallen into place.
Nintendo of America announced on their social media channels today that Animal Crossing: Amiibo Festival will release on November 13, as previously rumored. The package in stores will have a MSRP of US$59.99/C$69.99, and will come with the Isabelle and Digby Amiibo, plus Amiibo cards for Stitches, Goldie and Rosie.
Since the game requires additional Amiibo, most of the first wave of Animal Crossing Amiibo will launch on November 13. KK Slider, Reese and Cyrus will be in a 3-pack for $34.99/$44.99, while Tom Nook and Mabel will be sold separately at standard Amiibo MSRP ($12.99/$15.99). Lottie, who was anticipated to be sold with the other loose Amiibo, will be fashionably late in her arrival on November 22. No mention was made of the 2nd wave announced last night by NCL.